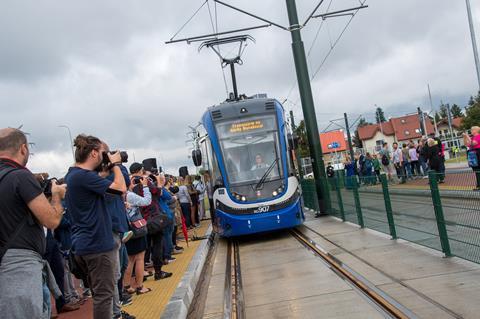 POLAND: A 3·6 km section of fast tram line in the northern suburbs of Kraków was officially inaugurated on September 4. The extension from Krowodrza Górka to Papierni Pradnickich is served by routes 18 and 50.
Work is still underway on the remaining 900 m of route to a turning loop at Górka Narodowa. An integrated transport hub is being built at the terminus, which will house a tram and bus interchange and a two-storey park and ride facility.
Of the total project cost, 184m złoty came from the European Union's Operational Programme for Infrastructure & Environment, Infrastructure Minister Andrzej Adamczyk said at the opening ceremony. A further 38m złoty was provided by the government as part of its support for the Kraków-Małopolska region hosting the third European Games multi-sport event in June and July this year.
The extension has seven stops plus the unfinished terminus. Major structures include a tunnel at ul Opolska, and 60% of the tracks are grassed. Three park and ride facilities along the line are to feature a total of 653 spaces. Charging stations for electric vehicles and 6·3 km of bicycle lanes have also been built.
The design and build contract for the line was signed between the municipality and a consortium of Intercor and Tor-Krak in May 2017. Construction started in June 2020.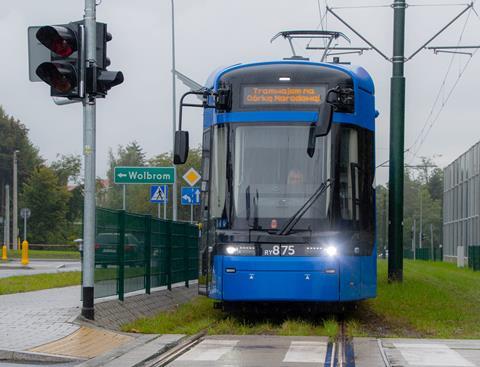 At Krowodrza Górka, which is the northern terminus of routes 3, 5 and 19, tracks have been laid to create a junction for a future westbound tramway to serve the Azory district.
'The northern part of Kraków is developing; the municipality estimates that around 30 000 passengers per day will use the new route', said Adamczyk.
Meanwhile, the European Bank for Reconstruction & Development is funding a further 4·5 km section of Fast Tramway under a loan agreement concluded in January. This would link the Mistrzejowice terminus of routes 9, 14 and 16 and the Tauron Arena Kraków Wieczysta stop on routes 4, 5, 9, 10, 12, 44, 49 and 52. EBRD says that it will be the first PPP in the Polish tramway infrastructure sector.