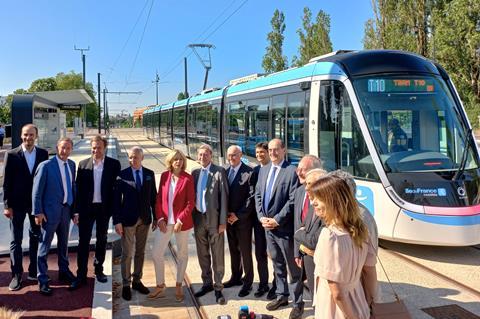 FRANCE: Celebrations on June 24 marked the opening of Paris tram Line T10, which runs 6·8 km from Jardin Parisien in Clamart to La-Croix-de-Berny in Antony.
There are 13 stops, including connections to RER Line B and TVM buses at La-Croix-de-Berny and to tram T6 at Hôpital-Béclère.
Ridership is predicted at 25 000 passengers/day.
There is a tram every 6 min in the peaks. The maximum speed is 50 km/h, and the end-to-end journey time is 21 min.
Fleet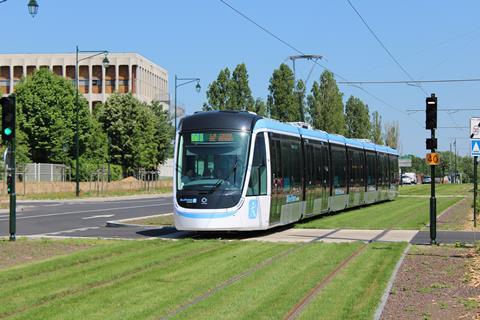 Construction of T10 cost €351m, funded by the Ile-de-France region, Hauts-de-Seine département and the national government.
IDF Mobilités funded a €35m order for 13 Alstom Citadis 405 Lumière trams which was placed in May 2021 as a follow-on to an order for 22 similar trams supplied for T9.
Built at Alstom's La Rochelle plant, the trams are 45 m long and 2 650 mm wide with 72 seats including nine priority seats and a total capacity of 314 passengers.
Jean-Baptiste Eyméoud, President of Alstom France, said the trams which were styled in collaboration with design agency Saguez & Partners are 'reliable, comfortable, elegant and modern'.
The trams are 'accentuated by signature lighting that runs throughout the vehicle', with a line of red lights when the doors close, a line of green light when they open and a continuous line of white light when the tram is moving. The trams have 45% glass surfaces, 100% LED lighting, eight passenger information screens, CCTV, HVAC and USB points.
The depot and control centre at Chatenay-Malabry has six maintenance and seven stabling tracks.
Operations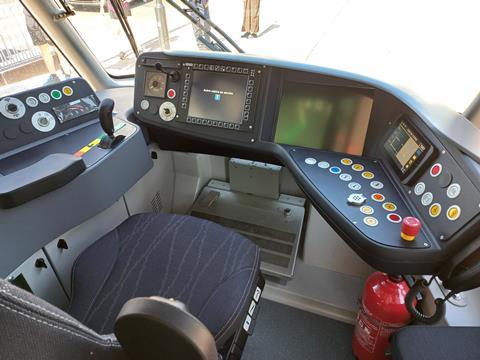 IDF Mobilités awarded RATP an eight-year contract to operate the line which runs from 2021 and is worth €6·4m/year. RATP Cap Ile-de-France has created a dedicated subsidiary, RATP Cap Bièvres, to operate T10 and local bus routes, with a staff of 70 including 40 drivers.
Magnetic tickets are not accepted on T10.
Planned extension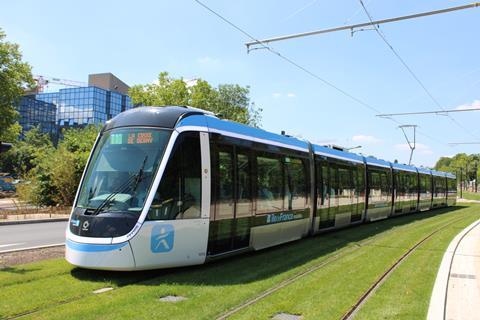 An extension of T10 from Jardin Parisien to the centre of Clamart and the railway station is planned.
IDF Mobilités is to study options for a ground-level route with five stops, or its preferred option of an underground route with three stops, with a view to securing funding to enable the extension to open in 2032.