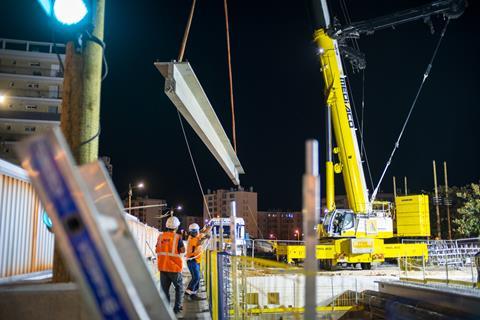 FRANCE: Contractor NGE says precise planning is paying off as it undertakes a complex project to replace a road bridge over the River Huveaune in Marseille with a new structure which is 2 500 mm wider to accommodate a double-track extension of tramway Line 3.
The bridge is in a congested urban area next to the Ste-Marguerite Dromel metro station. Road traffic needs to continue and care is needed to avoid soiling or obstructing the river, the contractor says.
The work is being undertaken in two phases, with the west and east halves of the bridge dating from 1954 being replaced separately.
In November 2022 NGE teams began work to demolish the western bridge, keeping the existing piles. New abutments on 1 000 mm piles were built to enable the installation of prestressed prefabricated beams for the new deck, which was commissioned at the end of June.
Work is now underway on the second phase, repeating the process on the eastern side of the bridge.
'Leading such a project in such a dense urban area is a major challenge', said NGE Operations Director Thibaut Giacone on July 27. 'I am delighted that the local authorities chose our multi-expertise and integrated package, which allows us to streamline the different work steps and perfectly co-ordinate all expertise on site with a single point of contact for the client.'