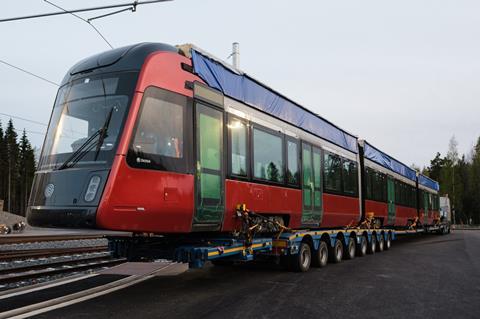 FINLAND: The first of 19 ForCity Smart Artic trams to operate the future Tampere tram network was delivered to the city by Škoda Transtech on May 25.
Zdeněk Majer, board member of parent company Škoda Transportation, said the bidirectional 100% low-floor trams were a 'modern, technically proven' design based on vehicles supplied to Helsinki.
The manufacturer has previously supplied 72 trams for the capital's metre-gauge network, and another 29 are on order for the Raide-Jokeri light rail line which will connect Helsinki and Espoo.
'Experienced employees across the entire Škoda Transportation Group worked on the development of trams for Tampere', said Majer. 'We are also convinced that this new generation of ForCity Smart Artic tram has great export potential.'
The 1 435 mm gauge Tampere cars are 37·3 m long with a capacity of 360 passengers. Features for operation in Nordic conditions include all-wheel drive with a maximum speed of 80 km/h, double glazing, heated floors for winter and air-conditioning for summer to maintain an interior temperature of 21°C.
The red-and-black livery was selected through a public vote.
The €104m contract for 19 trams to work the first phase of the Tampere network was signed in 2017 and includes 10 years of full maintenance. The deal includes three options for up to 46 more vehicles, and for a further 30 years of maintenance.
The Škoda Transtech plant in Otanmäki does not have suitable facilities for testing the Tampere trams, so this will be undertaken in the city before the fitting out of the interior is completed. Some testing will be performed remotely, with software engineers able to connect to the tram's systems from Plzeň in the Czech Republic.
The 15 km first phase of the 23·5 km Y-shaped tram network serving Tampere University Hospital is scheduled to open on August 9 2021. A decision to progress the western section to the city's airport is due to be taken this year.