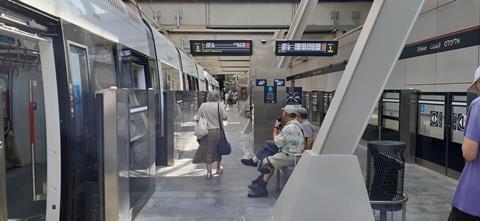 ISRAEL: Around 100 000 people took advantage of a day of free travel to mark the start of passenger services on Tel Aviv's light rail Red Line on August 18. This followed an official inauguration by Prime Minister Benjamin Netanyahu the previous day.
'Those who support us and those who oppose us — everyone will use this light rail', said Netanyahu. 'This is a festive event for Israel. Today, we are realising the transport vision of Israel: we promised and we have delivered. We promised to link between and within cities and between countries, and we are doing all three.'
Red Line backbone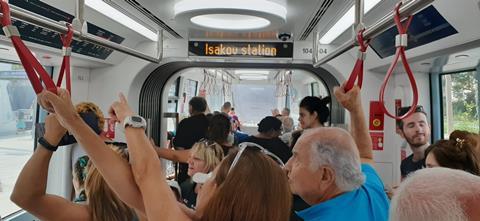 The Dankal ('Dan area light rail') Red Line is the first of three light rail and three metro routes being developed by government-owned NTA Metropolitan Mass Transit System to serve Israel's principal commercial and economic hub, which has a population of 4 million and growing.
The Red Line is designed as the backbone of the future network, starting at HaKomemiyut in the south and running to Aharonovich where it splits into branches to Petah Tikvah Central Bus Station and Kiryat Aryeh.
It totals 24 route-km and 34 stops, of which 12 km and 10 stops are underground.
Ridership is expected to reach 80 million passengers/year. Services are initially running every 6 min on the surface sections and every 10 min underground, with an increase in frequencies and speeds planned.
The Red Line is fully accessible for people with reduced mobility, and the underground stations are designed to act as civil defence shelters in the event of conventional or biochemical attack.
Construction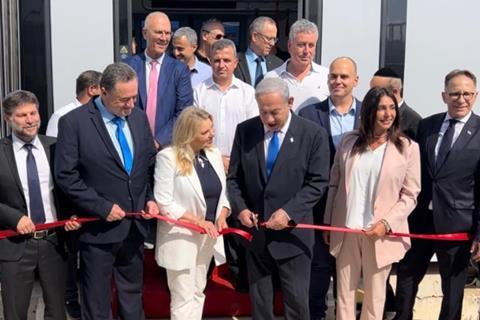 Work to build the Red Line got underway in 2015 and cost US$4·74bn.
Civil works were undertaken by China Railway Tunnel Group and China Civil Engineering Construction Corp, working with domestic contractors Solel Boneh and Danya Cebus. Six earth pressure-balance TBMs were supplied by CREG and two by Herrenknecht.
Electrical and telecom systems were provided by EEB and CRTG, with DB Engineering & Consulting managing systems integration.
Alstom supplied signalling and control systems under a 345m shekel contract. There is line-of-sight operation with limited ATP on the surface lines, while the underground sections have full ATP and attended automatic train operation to GoA2.
CRRC Changchun was awarded a contract to supply 90 five-section low-floor trams, and will maintain them for 16 years.
The Tevel Metro joint venture of bus operator Egged, Shenzhen Metro Group and CCECC is responsible for operations and maintenance under a contract which runs for 10 years from the opening, extendable for a further six years.