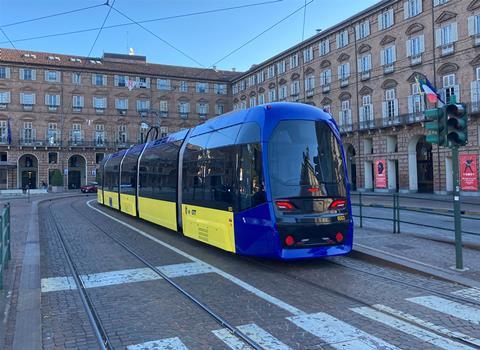 ITALY: The first of 70 trams which Hitachi Rail's Napoli plant is supplying to Torino transport operator GTT entered service on September 11, following an official unveiling by the mayor the previous week
The trams have been ordered under a May 2020 framework agreement. A €63·4m first firm order covering 30 trams was funded by the Ministry of Infrastructure & Transport as part of the 'rail cure' programme to enhance transport in large cities, while a second tranche of 40 trams was jointly funded by the ministry, city and operator.
Electric fleet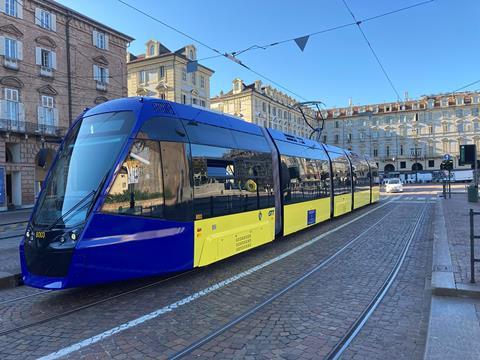 The trams will enter service gradually, initially on routes 3, 9 and 10. Route 4 will follow next year and all 70 trams are expected to be in use in 2025, replacing Class 2800 trams dating from 1958-60.
This forms part of a wider renewal of the GTT fleet including the acquisition of 437 buses, many of which will be electric.
This will mean 81% of all journeys in the city will be electrically powered in 2026, which is expected to bring a 59% reduction in CO2 emissions and a 97% cut in diesel exhaust particles.
Sirio evolution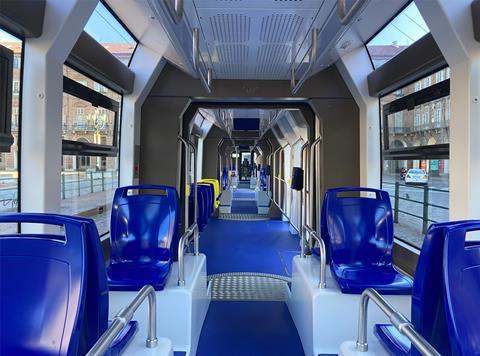 The 1 445 mm gauge low-floor trams are 28 m long with a capacity of 254 passengers, including 36 seated.
There are large windows to let in daylight and provided panoramic views, and styling by Giugiaro Architettura includes a blue and yellow livery based on the city's colours. There are two areas for people with disabilities, designed for easy access and good manoeuvrability for wheelchairs. External displays are also provided at the height which is visible to passengers in wheelchairs.
The trams have a maximum speed of 60 km/h. Knorr-Bremse supplied the braking systems, its IFE subsidiary the RL2-e2 sliding plug doors and its Merak business the heating, ventilation and air-conditioning systems including two roof-mounted units for the passenger area which provide a continuous exchange of air from outside.
The trams 'represent the evolution of the previous Sirio model, of which hundreds have been built for cities in Italy and abroad', said Luca D'Aquila, COO of Hitachi Rail. 'The trams incorporate new technologies and high-quality standards for reliability and passenger comfort, and are designed to further encourage the use of public transport in cities.'