UK: A £300m government financing package has been agreed for Metro Re-invigoration, a two-stage investment programme to overhaul the Tyne & Wear Metro. The pre-qualification process to create a shortlist for a seven-year operating concession is due to be completed this month, marking the start of a decade of change. Nick Kingsley reports.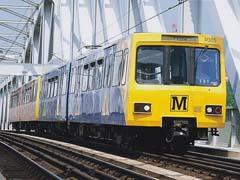 The two-year, £20m reconstruction of Haymarket station in Newcastle city centre is one of the most visible signs that a rolling investment programme potentially lasting more than 20 years is underway to modernise the Tyne & Wear Metro.
'Essentially the project is about focussing on the 'bread and butter' of running a railway, which includes investing in those things that the passenger does not always see,' explains Ken Mackay, Director of Rail & Infrastructure at Tyne & Wear Passenger Transport Executive, which trades as Nexus. 'But we would be rightly criticised if we did not also undertake more tangible work for our passengers, which is why the reconstruction of Haymarket is important.'
Often viewed as the pioneer of modern light rail in the UK, the metro dates back to 1980 when the section between Haymarket and Tynemouth opened, combining a life-expired suburban railway with a pair of twin-bore tunnels under Newcastle city centre. By 1984, the initial network had been completed, crossing the River Tyne to Gateshead and South Shields and including the loop to the coast via Whitley Bay on the northern side of the river. An extension to Newcastle Airport opened in 1991, giving a basic network of 59 route-km.
A bold initiative to take the metro south to Sunderland bore fruit in 2002 when LRVs began sharing 13 km of main line railway with regional services and freight traffic (RG 7.01 p474). A further 5 km of disused alignment was rebuilt to form a branch beyond Sunderland via the university to a terminus at South Hylton. The trackbed of the branch was acquired by Nexus, and leased to the then-national infrastructure manager Railtrack for 99 years - this lease has subsequently passed to Network Rail. This arrangement ensures that there is just a single interface between the metro and the national network at Pelaw.
Victorian legacy
The development of the Metro Re-invigoration programme is driven, in part, by a combination of historical factors that differentiate the network from other UK light rail operations. Firstly, whilst the overall condition of the infrastructure installed in the early 1980s is reasonable, some components are reaching obsolescence. This is exacerbated by the fact that large parts of the metro follow alignments built in the first half of the 19th century - indeed, Nexus believes the section between Brockley Whins and Gateshead, opened in 1838, to be the world's oldest suburban railway. As well as structural issues concerning bridges and tunnels, many of the embankments were built from ash and are in need of significant reinforcement or replacement.
From a financial perspective, asset renewal has been hampered both by a lack of long-term funding and concerns over patronage. Metro was conceived as part of an integrated local transport network, and the PTE's bus network was re-organised to feed into key railheads. However, deregulation of bus services outside London in 1986 meant the local authority no longer had control over bus routes, and the planned integration with the metro was lost. Nexus is still coping with the impact of numerous duplicate bus services today, and links to stations vary in quality across the region.
From a peak of 61·1 million passenger journeys in 1984-85, usage declined to a low of 32·5 million in 2000-01. Since the opening of the Sunderland extension, ridership has recovered to sit around the 40 million mark. In the 2007-08 financial year, the network carried 39·8 million journeys, but expectations that 10 million trips per year would be made on the route to South Hylton have so far proved too optimistic. Nexus puts annual ridership on the Pelaw – Sunderland – South Hylton route at around 6 million passenger journeys at present.
'The issue is with the rate of change of people's travelling habits. It has probably taken longer than we thought for people to alter their behaviour and take the metro', explains Mackay. 'But the former rail service from Sunderland only carried 2 million passengers per year so it's a three-fold increase in traffic, and I would judge that a success.'
Ticketing focus
The quest to establish a viable long-term future for Metro pre-dates the opening of the Sunderland line. In 2000 Nexus published a policy document entitled Towards 2016. This set out a 20 year vision for the metro within the wider regional transport mix, and set out a detailed case for asset renewal and enhancement. Since then, the roadmap for modernisation has evolved alongside changing national policy towards light rail - long gone are hopes for 14 tram routes to augment the network with through-running in the city tunnels, as put forward in 2001.
Metro Re-invigoration is instead targeted at prioritising essential investment. Two phases have received outline funding approval from the government, and Nexus has drawn up plans for a longer-term third phase commencing in 2019.
The first phase, costing £55·2m and due for completion by 2010, is already well under way: besides the redevelopment at Haymarket, a new station was opened at Simonside in March last year. Other Phase 1 work is focused largely on ticketing - seen by many passengers as a weak point. Currently ticket vending machines only accept coins and are prone to failure, and Nexus reports considerable concern from passengers about fare evasion. Its response is to re-equip every station with new vending machines which accept notes and bank cards.
Once the ticket machines have been installed, 13 of the busiest stations will be fitted with gate lines. Ticket-operated turnstiles were a feature of the network when it opened, but these low-height barriers were quickly seen as unsuitable and most were removed in 1988. Four stations in the city centre retain barriers for crowd management purposes, notably on match days at St James' Park, home of Newcastle United football club, which is served by nearby St James station.
'We are exploring the possibility of incorporating some element of smart media technology as part of the ticketing and gate equipment. Even if we don't implement it initially, we want to have the functionality,' Mackay explains. 'The whole rail industry is lining up behind smart ticketing, and we want to be ready if we get a decision to proceed with it a year or two after we've installed [the new equipment].'
He acknowledges however that the fragmentation of urban transport provision in cities outside London and ongoing uncertainty about standards and security make smart ticketing a challenging technology to implement. 'If there's a difficult way to do it, we in the UK seem to be able to find it.'
Some improvements to the fleet of 90 LRVs are also envisaged, including enhanced heating equipment and the installation of digital CCTV and audio-visual passenger information.
Capital injection
Phase 2 will deliver more fundamental change. Conditional approval was granted by the Department for Transport on July 31 last year for a package of investment worth between £291m and £346m, to be paid year by year between 2010 and 2019. In addition, the government has also agreed to underwrite the operating costs of the network until 2019.
The package should bring an end to what Mackay terms 'our short-term funding horizons'. The metro has traditionally been financed from central government on an annual basis, leading to a scenario where a settlement might be agreed only a matter for weeks before the start of the next financial year. 'This does not help us in delivering an efficient public service.' Annual spending on asset replacement is currently around £7m, Mackay says, but the government's commitment paves the way for 'a four-fold increase' in this figure for the next nine years.
Part of the government's commitment to support the metro operations involves the tendering of an operating concession running for seven years from April 2010, with an option for a further two years. Although it was initially envisaged that a public sector comparator evaluation would be undertaken to ensure value for money for the taxpayer, this has now been modified to allow Nexus' own operations team to bid against private sector entrants. 'It's quite normal in local authority tendering to have an in-house bid, but it's more unusual in the rail industry,' Mackay says.
The programme will involve the creation of Nexus Rail as infrastructure owner and manager. 'We will mirror the situation on the UK national network in many ways', Mackay adds. The operations business which is to be 'market tested' has four elements: operation of the service and stations; LRV maintenance and the operation of South Gosforth depot, plus some station maintenance; marketing, revenue protection and income generation from non-farebox sources; and management of a major refurbishment of the LRV fleet. Revenue risk and responsibility for setting fares remains with Nexus, which will continue to receive all farebox income. Mackay suggests that there will be an incentive policy for the operator, 'probably based on the number of passengers carried'.
Nexus is currently undertaking a pre-qualification process, which is due for completion this month, and a shortlist of 'about five' bidders is to be released in January. A preferred bidder is likely to be nominated towards the end of the year, and the concession will begin on April 1 2010.
Infrastructure priorities
It is the 'unglamorous parts' of the railway which are the priority for Mackay in terms of managing the infrastructure investment. Besides investigating thoroughly the state of the Victorian structures across the network, he cites the communications system as his most pressing focus. 'You cannot run a modern metro without modern communications - just as in everyday life you would struggle without a mobile phone. Upgrading the optic-fibre bearer network across the system and providing proper diverse routing, which we could then make commercial use of, is essential.'
Mackay emphasises that the nine-year length of the concession gives Nexus Rail the chance to develop its skills to ensure that it matches the performance expected of a conventional infrastructure manager. 'The big test for us is how we perform in terms of asset management. Maybe in the past we didn't know absolutely everything about our infrastructure, but we have been given an opportunity over nine years to change that.'
The three-quarter life refurbishment of the LRV fleet is intended to keep the cars in service beyond their 40th year. 'The current rolling stock will be phased out by 2025 at the absolute latest,' Mackay affirms, acknowledging that the 90 Metro-Cammell articulated cars are of a relatively simple design that is extremely reliable and is showing few signs of aging. However, the cars are somewhat spartan in terms of passenger comfort and the refurbishment project is intended to rectify this.
Mackay also suggests that a replacement of the traction package cannot be ruled out, but he is aware of the risk of introducing a layer of complexity into the refurbishment which could impact upon service delivery. 'We will buy as much as we can afford when we refurbish because we appreciate that light rail is seen as a premium transport mode,' he says. He expects some derogations to be in place to ensure that the 2020 deadline for compliance with more stringent European disabled access regulations does not require the premature withdrawal of the fleet.
Mackay is 'really quite proud' of the state of many of the stations, particularly the sub-surface facilities which are 'bearing up well given that they have seen 30 years' use in quite a harsh operating environment'.
The work at Haymarket is to be used as a template for the upgrading of the other sub-surface stations, and Mackay suggests that 'we need to pick an out-of-town station and see what we can do to create a template to renew those too'. The recently-constructed stations at Simonside and Northumberland Park are likely to have an influence on the style of the rebuilding projects, but equally Nexus is aware that some of its surface stations are in some of the most deprived districts of the UK.
This has an impact on design and material use - for example, at Felling the installation of a lift for step-free access to platforms could not be justified because of the risk of vandalism, and a large ramped bridge had to be built instead. Around £60m to £70m will be spent on updating stations over the nine years of Phase 2.
Into the future
Like many metro managers across the globe, Mackay is interested in the potential offered by modern communications-based train control. But he views the wholesale replacement of the existing signalling as an essential accompaniment to the introduction of new rolling stock, which will only occur after 2020 under the as-yet unfunded Phase 3 of Metro Re-invigoration. This is provisionally valued at £281m, with £163m to be spent on rolling stock.
Mackay hopes that some increase in operating speed might be possible, as the track is generally in good condition, and there are some long sections between stations, particularly on the route to Sunderland and on the northern loop to the coast. Currently the LRVs have a maximum speed of 80 km/h but 'it might be technically difficult and expensive' to raise this.
'During the course of Phase 2 we will be doing a lot of work on the future demand for the metro. This will shape how we go about procurement for the future - do we for example need to buy more trains, increase the service frequency, or lengthen trains and some platforms ' He explains that the ongoing uncertainty over the provision of public transport in urban areas over the next five to 10 years and the possibility of congestion charging being introduced in the longer term means that it is still too soon to make such decisions.
Nexus clearly believes that Metro Re-invigoration is a process that will gather momentum for years into the future: 'We have always said to government that it would be ludicrous to commit to Phase 2 and not then go on to Phase 3, otherwise we would end up back in the same position we are now, having spent a lot of money to get there,' Mackay concludes.
Sharing tracks to South Shields
Also outlined in Towards 2016, plans to increase capacity on the branch to South Shields remain on Nexus' agenda, although there is no precise timescale for work to start.
The project would be funded via an application to the Department for Transport's Major Schemes Guidance for local transport projects, and it is therefore outside the scope of Metro Re-invigoration. The main objective is to double the line to from Pelaw to South Shields, which currently has a number of single-track sections. As the alignment is mostly shared with Network Rail's freight-only branch to Jarrow oil terminal, Nexus is proposing to introduce shared running with freight trains under similar operating conditions to those employed on the route to Sunderland. Freight operators would then enter into an access agreement with Nexus for operation over the metro network.
In addition, a new South Tyneside station would be built, although an exact location has yet to be finalised. Operational flexibility could be increased by the creation of a stabling and light maintenance facility at South Shields, which would permit an earlier start to services. Currently the whole fleet returns to South Gosforth depot overnight, and this requires a considerable amount of empty running to position trains for the start of services each day.
Metro Re-invigoration Phase 2
Refurbishment of 90 trainsets £15m
Station redevelopments £45m
Signalling and telecoms £26m
Maintenance of 200 structures £28m
Track and OHLE renewals £43m
Infrastructure modernisation £36m