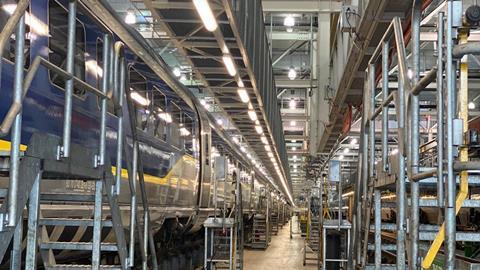 UK: Two maintenance tracks at Eurostar's high speed train depot in east London have been equipped with LED lighting supplied by J Brand Ltd.
This has replaced fluorescent lighting, providing a better a quality of light to help improve working conditions and staff safety. 'The benefits will really be seen in winter, when the improvement will be very clear', the supplier told Railway Gazette International.
The lighting is activated by PIR sensors, with the lights turning on and off automatically as staff progress along the length of the 400 m trainsets.
LEDs also use less energy than the older lights and have lower maintenance requirements, which the supplier expects will bring a significant reduction in costs for Eurostar as well as offering environmental benefits.