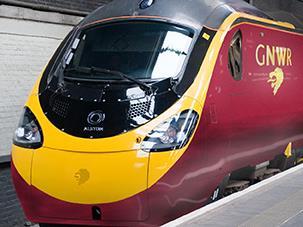 UK: On August 7 the Office of Rail Regulation informed Alliance Rail Holdings that it had decided to approve a 10-year track access contract between Network Rail and Great North Western Railway, an Alliance subsidiary which is planning to launch open access passenger services between London and Blackpool in early 2018. Competing with Virgin Trains West Coast, the new services would be operated with a fleet of four six-car Pendolino tilting trainsets to be procured by GNWR, with a maximum speed of 125 mile/h and traction characteristics 'similar or better' to rolling stock now using the West Coast Main Line, according to ORR.
Alliance Rail Holdings is owned by Arriva. GNWR is a sister company of Grand Central, which operates open access services from London to Bradford and Sunderland on the East Coast Main Line.
GNWR has received approval for firm rights to operate six off-peak return services between London and Blackpool North from Monday to Saturday, and five on Sundays. Although GNWR intends to run out of London Euston, and believes this will be achievable in practice, NR is not prepared to sell any firm access rights due to uncertainty over the capacity that will be available at this station once works for High Speed 2 begin. GNWR has therefore been granted contingent rights into London Euston, and firm rights to operate from Queen's Park some 5 km outside Euston, where interchange with London Underground is available.
The calling pattern for the proposed services includes firm rights to call at Crewe and Preston, and contingent rights to call at Milton Keynes, Nuneaton, Tamworth and Lichfield Trent Valley. ORR has concluded that the new services would pass its Not Primarily Abstractive test, generating at least 30p of new revenue for every £1 abstracted from existing services.
ORR estimates that GNWR could abstract around £22m a year from other operators, 'higher than for any previous open access application we have approved', due to the 'step-change in the level of access rights sought in a single application'. Despite this, ORR estimates that abstraction by GNWR 'would likely be less than the total cumulative abstraction from all open access services we have approved to date on the East Coast Main Line'.
With both the VTWC and London Midland franchises due to be re-tendered before GNWR is due to start operations, ORR says that it will make the track access contract 'conditional on the timely procurement of rolling stock'. It will also require the new services to be introduced by 'an appropriate longstop date', after which the access rights would lapse.
'The introduction of these new services will further grow the market for rail travel', said Alliance Rail Managing Director Ian Yeowart. 'As well as bringing new direct services to a number of locations, notably Blackpool, it will give passengers further choice'.
'Experience on the East Coast Main Line with Grand Central has shown how this stimulates the market and helps put pressure on prices', he added, 'a fact noted by the Competition & Markets Authority in its recent rail review'.