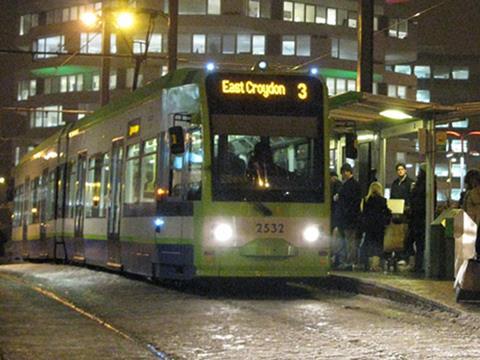 UK: Transport for London subsidiary Tramtrack Croydon Ltd is seeking bids for the lease of 10 new or second-hand trams to increase capacity on the light rail network in south London from the end of summer 2011.
A new service is planned to run between Therapia Lane and Elmers End via central Croydon, and this will require five trams in service for a minimum of 12 h a day, Monday to Saturday. According to the OJEU notice published on January 29 the additional trams will operate approximately 75 000 km per year, and will be needed for 'at least 10, but not more than 20 years'.
Tramlink currently has a fleet of 24 Bombardier CR4000 trams supplied for the opening of the 28 km network in 2000, of which 22 are required in traffic each day. These cars are maintained under contract by the supplier, which also has the right to bid to maintain any extra vehicles. However the supplier of the additional cars may be invited to submit a proposal for the provision of maintenance.
The contract will be awarded through a negotiated procedure. Applications to pre-qualify are due to be submitted by mid-day on February 21. A final deal is subject to funding, with the London Borough of Croydon intending to contribute to the cost.
Tramlink services have remained relatively static at between 2·4 and 2·7 million km per year since the opening, however annual passenger journeys have increased by 45% and are predicted to reach 27·8 million by the end of 2010-11.