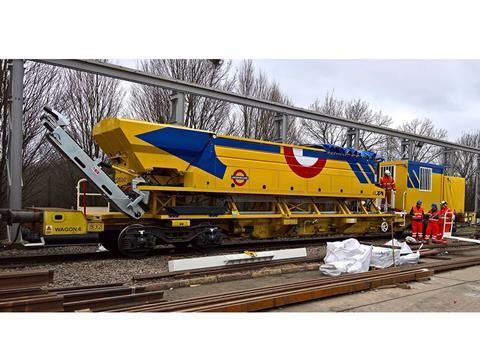 UK: London Underground has taken delivery of a concrete mixing and distribution unit ordered from Italian company Blend Plants for use on a project to convert 6·4 km of the Baker Street to Finchley Road section of the Metropolitan Line from ballasted to slab track.
The dismountable mixer is carried on a intermodal wagon which was formerly used as part of the TransPlant 'slinger' train carrying rail and sleepers into the LU network for track renewals. The mixer is powered by electricity from LU's battery locomotives with a on-board back-up diesel generator, and is described by the manufacturer as the largest single-wagon rail concrete mixer in Europe, and possibly the world.
It is designed for use on the larger-profile Sub-Surface Lines, but the hopper can be replaced with a smaller version to enable it to be used on the small-profile deep tube lines, albeit at the cost of a reduction in mixing capacity from 15 m3 of concrete to 6 m3.