Work is in full swing on an $8bn, five-year programme of enhancements to Boston's urban rail networks, aimed at improving resilience, performance and capacity.
This year will see substantial investment flow into Boston's metro, light rail and commuter rail networks, with the acceleration of essential improvements under an $8bn programme branded 'Building a Better T'.
Boston is a world-class city and a thriving centre for research, commerce and international trade. Its greater metropolitan area is home to an impressive list of global businesses, notably in financial services, IT and biotechnology. Boston is also a world leader in higher education, with 29 universities including Harvard and MIT.
All of these activities are supported by public transport, and Massachusetts Bay Transportation Authority's commitment to deliver reliable service in the most safe, efficient, cost effective and sustainable way is paramount for the continued economic growth and sustainability of the region.
Launched on July 1 2018, 'Building a Better T' includes extensive track replacement, infrastructure renewals and station improvements on all parts of the system, from the transformation of the Red and Green subway lines to the introduction of Positive Train Control on the commuter rail network.
Thanks to stakeholder support, MBTA was able to announce in 2019 that the renewals would be speeded up, cutting two years off the timescale. And on February 11 this year Massachussetts Governor Charlie Baker unveiled the 2020 Infrastructure Acceleration Plan, which will see some projects delivered eight years faster than originally planned, albeit at the cost of more short-term disruption.
An extensive network
As a division of Massachusetts Department of Transportation, MBTA operates one of the oldest public transit systems in the United States. It manages subway, bus, commuter rail, ferry and paratransit services across eastern Massachusetts and parts of Rhode Island, carrying upwards of 1 million passengers/day.
The subway network comprises four lines. The Green Line is the oldest, incorporating North America's first cross-city subway which dates from 1897-98. Services are operated with light rail vehicles, which diverge to serve four branches in the western suburbs using a mix of segregated and street-running tracks. The Red, Orange and Blue lines are heavy metro routes which have their origins in elevated and subway lines built in the early 20th century but today run mainly in tunnel or on surface alignments following extensive reconstruction.
Within the Greater Boston area, MBTA operates five bus rapid transit routes — branded as the Silver Line — as well as 171 conventional bus routes. It also oversees the commuter rail network that fans out from the main line termini at North Station and South Station to towns and cities across eastern Massachusetts, Rhode Island and New Hampshire. This is currently operated by Keolis North America under an eight-year $2·7bn contract which started on July 1 2014; the contract includes provision for two optional two-year extensions.
Winter Resilience
MBTA's network-wide upgrading campaign has its roots in the $100m Winter Resiliency Improvement Program launched by Governor Baker following the so-called Snowmageddon crisis that paralysed Boston's public transport in the winter of 2015. As the physical recovery efforts progressed, a compelling force surfaced within the employee ranks: MBTA has an obligation to maintain its rail networks in a state of good repair, including robust investment in safety and winter resilience. The T's responsibility to its customers meant that improvements to the existing system needed to take priority over expansion.
While the post-Snowmageddon recovery efforts were underway, all departments were asked to identify and prioritise their operational needs. The biggest single requirement was a request from the Track department for complete renewal of the 750 V DC third rail power supply on the Red Line. This was coupled to a recommendation to replace the third rail heating system to ensure reliability in winter and support the annual snow removal efforts.
The Winter Resiliency Improvement Program also provided funding for signalling repairs and the purchase of snow fighting equipment. That included smaller items like snow blowers and shovels to help keep open access to staff facilities during severe weather. Other small but important items went into the mix, such as tree trimming and upgrades to non-revenue vehicles used by maintenance and engineering staff.
MBTA has invested in weather monitoring technology, giving the ability to 'now-cast' conditions at key locations and thus deploy snow fighting resources more effectively. And to reinforce preparedness for any future events, a 'storm desk' was established with a direct connection to the Operations Control Centre.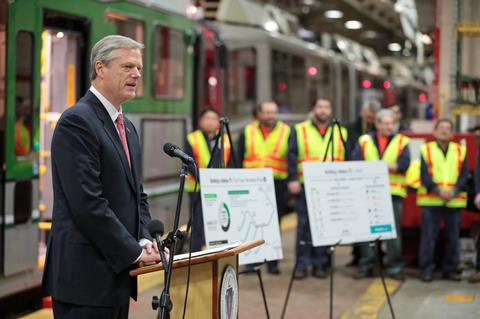 Article continues below ↓
Snowmageddon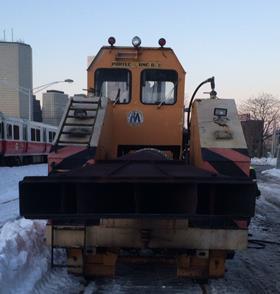 Three major blizzards hit Eastern Massachusetts in the winter of 2015. Over the four weeks from mid-January to mid-February, around 2·5 m of snow fell in Boston, contributing to a seasonal snowfall record of 2 758 mm. Combined with the harshest and longest cold spell in decades, the unprecedented snowfall had a numbing effect on Boston's regional transport network, with the hardest-felt impacts crippling the area's public transit.
Habitually known to rise to the occasion, Bostonians nostalgically refer to that winter as Snowmageddon. But during the paralysis posed by each successive storm, it was not their warm-hearted sense of humour that dominated the local airwaves.
At MBTA, it quickly became apparent this was not a typical weather emergency. By the onslaught of the second blizzard, the T's emergency-response teams had already been working feverishly around-the-clock for more than a week, and they did not have enough time to restore the system to anywhere near normal capacity. When the third blizzard hit, all hope of returning the system to full capacity in a reasonable timeframe was dashed.
By the time the storm cleared, the entire transit network was at a standstill. On every line, trains were buried, turnouts were frozen, and exposed tracks were encrusted under metres of snow and ice. Narrow rights of way meant there was no room to push the snow out of the way. Meteorologists were predicting no end in sight for the deep Arctic freeze, and MBTA was facing issues it had not seen before in its 100-year history.
The severity of the economic impact associated with a system-wide transit outage was readily apparent and public concern reached an all-time high. It was clear that an extraordinary effort would be needed to bring the network back online. Understanding the reality of the task ahead, MBTA sought help from other transport agencies throughout the USA, as well as Toronto in Canada.
The fix would demand a pooling of resources including staff and heavy equipment, as well as learning from best practice. An emergency peer-to-peer review was initiated through the American Public Transportation Association, and recommendations were made to bring in extra Storm Preparedness & Management personnel from other cities to support MBTA's own teams.
An inventory of snow fighting machinery across the eastern USA and Canada was quickly produced, and routes were agreed to get the equipment to Boston as soon as possible. Extra teams were assigned to evaluate the need for emergency infrastructure repairs and long-term improvements. The recommendations of the peer-to-peer review prompted Massachusetts Governor Charlie Baker to make available more than $100m for MBTA's Winter Resiliency Improvement Program.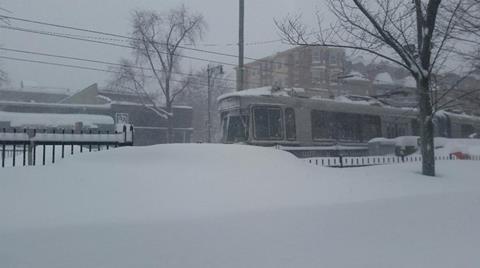 Boosting capital investment
More broadly, the agency has focused on developing a better management culture, using qualitative and quantitative measuring tools to measure progress. Key performance indicators are displayed in real time on a visual dashboard, making everyone aware of how well MBTA is serving its customers.
Building on the winter resilience programme, the agency reviewed its capital investment plan, which ranges from station renovations and improved accessibility to renewal of the fare collection system. Recognition of the need to step up infrastructure renewals led to approval of the Building a Better T programme.
The original timescale envisaged the works being delivered over a decade, but 10 weekend shutdowns on the Red and Orange lines during 2019 allowed more work to be undertaken simultaneously. Following that success, this year will see an even more aggressive approach.
'Our administration is dedicated to building a better MBTA for our riders that is safer and more reliable, and the 2020 Infrastructure Acceleration Plan will help to achieve this goal faster', explained Governor Baker in February. 'A vigorous schedule of construction and repairs is aimed at building a system that will move more people from point to point in less time.'
'MBTA customers deserve better service faster, but the T can't deliver modernisation without disruption', added Massachussets Transportation Secretary Stephanie Pollack. 'The temporary inconvenience will be worth it, delivering safer and more reliable service in months instead of years.'
This year will see month-long blockades on the Green Line C and E branches, as well as weekend closures on all four subway lines and several commuter rail routes. These will allow improvements to be delivered five times faster than relying on limited engineering access at night.
MBTA has committed to providing a robust, fully accessible replacement service during the blockades, including free shuttle buses and enhanced frequencies on alternative routes. Customer Service Agents and Transit Ambassadors will be deployed to assist passengers. A special BBT2020 website and interactive map will enable customers to check which works are underway and what alternative services are being provided.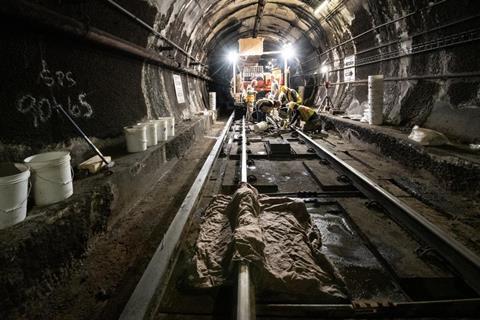 Green Line transformation
Improvements to the Green Line are intended to accommodate a doubling of ridership by 2030, increasing capacity by up to 20 000 passengers/h. As part of the Green Line Extension project, 24 additional LRVs have been procured from CAF at a cost of $118m. The first entered service in December 2018, and all are due to arrive by the end of this year, expanding the fleet from 189 to 213 vehicles. Service frequencies will be improved to give peak headways of less than 5 min on each branch.
More than $100m is being spent on track and signal renewals, including a new train protection system, centralised digital signalling and transit signal priority at road intersections. This should speed up services as well as improving on-time performance to up to 90%.
All stations and vehicles are being made accessible, with step-free boarding at all platforms; the new vehicles have low-floor entrances. Newton Highlands station will be completely rebuilt by the end of 2022 at a cost of $23m. Other stations will get new shelters, walkways and lighting. Signage is being upgraded, and real-time train arrival information will be provided. Four stops on the B branch will be consolidated into two new stations next year at a cost of $29m to improve running times along Commonwealth Ave.
The 28-day closure of the Green Line C branch between Kenmore and Cleveland Circle will facilitate track replacement and the upgrading of road intersections. Similar work will follow on the E branch between Prudential and Heath Street. Track renewals on the B branch will see diversions for three weekends. Evening and weekend diversions will take place on the D branch throughout 2020 for track and signal improvements, as well as work on the $22m Fenway Portal flood resilience project. In total, this year will see 17·3 km of track replaced, equivalent to 24% of the entire Green Line.
Green Line services between North Station and Lechmere will be suspended for 11 months from May, to facilitate a $62m reconstruction of the historic Lechmere Viaduct, which carries the line across the Charles River. This blockade will also allow work on the elevated section through East Cambridge and track realignment at Lechmere, where the station is being relocated as part of the extension project.
Now around 35% complete, and on course for completion by the end of 2021, the $2·1bn GLX will add six fully-accessible stations, together with a new vehicle maintenance and stabling depot. The Green Line will be extended northwest from Lechmere to College Avenue in Medford, parallelling the Lowell commuter rail line, with a branch to Union Square in Somerville sharing the Fitchburg Line right-of-way.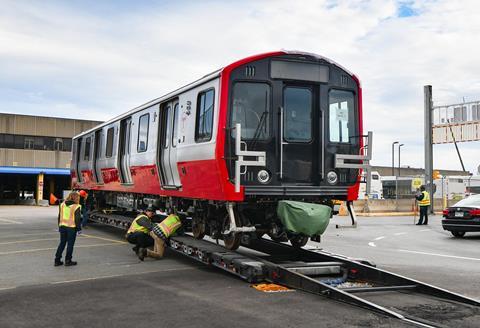 Red Line rebuilding
Rebuilding of the Red Line is being undertaken in conjunction with the procurement of a new fleet, and is expected to provide capacity for up to 65 000 additional passengers each day. The work includes resignalling and the rebuilding of the depot facilities.
Under a contract awarded in 2014, the CRRC MA plant in Springfield is assembling 252 new cars for the Red Line, with deliveries due for completion by 2023. Six pre-series vehicles were delivered to the line's Cabot Yard in late 2019 for commissioning. To facilitate this, the existing test track was fully relaid last year and work on a new vehicle testing facility is expected to be completed in the next few months at an estimated cost of $21m.
A contract was awarded in August 2018 for complete reconstruction of Cabot Yard to improve the servicing of the Red Line fleet. Due for completion by late 2022, this will see renewal of all the yard tracks, a canopy to shelter outdoor maintenance work and a more environmentally friendly car wash plant. The workshop area will be re-equipped and new diagnostics equipment introduced.
Design is underway for the $217m resignalling programme, which will see the existing analogue signalling on both the Red and Orange lines replaced with digital technology by January 2022. A contract for the resignalling was awarded to Barletta Heavy Division in October 2018.
Red Line services will be suspended between Alewife and Harvard for 11 weekends this summer to allow repairs to 9·7 km of floating track slabs, as well as work to mitigate leakage in the tunnels. Work is also being accelerated on the reconstruction of multi-storey parking garages at Braintree and Quincy Adams stations on the Red Line's South Shore branch.
Orange Line
A similar package of improvements is underway on the Orange Line, where 152 new CRRC vehicles will lift capacity by an estimated 30 000 passengers/day. The first six-car train entered service on August 14 2019, and after some early teething problems two are now in regular use, with more being commissioned.
Reconstruction of the line's Wellington Yard and maintenance facility began in summer 2017, and expansion of the storage tracks was completed by early 2019.
Under a programme expected to continue until 2021, there will be seven weekend closures this year on the northern part of the line between Oak Grove and Sullivan, to allow the replacement of 5·6 km of track, as well as the upgrading of traction power substations that are more than 40 years old.
Blue and Silver enhancements
The shorter Blue Line serving East Boston was extensively modernised in 2001-08, with accessibility improvements at all stations and the delivery of 47 two-car units from Siemens which operate in six-car trains.
Nevertheless, this year will see 19 weekend suspensions on the cross-harbour tunnel section between Airport and the city centre terminus at Bowdoin to allow the replacement of 750 m of track, cable renewals and weatherproofing work on the tunnel structure.
Tunnel improvements are also planned at Courthouse station on the Silver Line BRT, where works are needed to address leakage and enhance station conditions in the former streetcar subway. Diverting the buses to run on street will allow the work to be completed more than a year sooner than previously planned.
Article continues below ↓
Commuter rail electrification
On the commuter rail network, weekend services on the Franklin Line will be suspended between Forge Park and South Station to allow track improvement works. Meanwhile, 80 double-deck coaches were ordered from Hyundai Rotem in October under a $278·5m contract. Due for delivery between September 2022 and June 2024, these will replace the oldest single-deck vehicles in the fleet, increasing capacity by more than 14 000 seats/day as well as improving reliability.
Looking further ahead, the MBTA board voted on November 4 to back substantial investment in the commuter rail network, as part of a broader strategy to attract travellers out of cars and reduce greenhouse gas emissions. This followed a presentation of the Rail Vision study drawn up by a 22-member commission to look at six enhancement options priced at up to $28·9bn, including electrification and a cross-city rail link connecting up the routes using North and South stations.
Although no funding has yet been identified, MBTA has been instructed to establish a 'commuter rail transformation office' to oversee the electrification of several routes and the introduction of 15 min headways on the busiest corridors. A pilot programme would start with the launch of electric services on the Providence/Stoughton Line, which uses Amtrak's electrified Northeast Corridor. The Fairmount Line to the southeast would also be electrified, along with the inner section of the Newburyport/Rockport Line connecting North Station to Lynn, Revere, Chelsea and Everett. Procurement of suitable rolling stock could take up to four years.
Asked to include provision for the electrification project in his multi-year transportation bond bill, Governor Baker agreed that 'significant portions' of the commuter rail network should be electrified 'over the course of the next 15 or 20 years', adding that increased use of hydro and offshore wind generation could provide the necessary power.
Boston hosts Smart Transit East
MBTA is co-hosting this year's Smart Transit East congress, taking place at the Renaissance Boston Waterfront hotel on August 9-11. Organised by Railway Gazette Events, this will bring together senior transit industry figures from across North America. The congress will consider how digitalisation and technology are revolutionising the public transport sector, with presentations and workshop sessions ranging from asset management, signalling, and telecommunications to safety management and ways of enhancing the passenger experience.
The event will be co-located with the SafeRail Congress, bringing together transit agencies, railroads and suppliers who are working to create safe, secure, and reliable rail networks.
MBTA will be organising a visit to its state-of-the-art Operations Control Centre, which oversees the movement of more than 2 600 trains/day on all four lines of the 100 km subway network, as well as station safety and security systems.