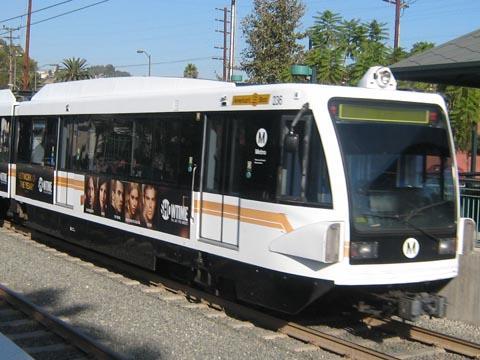 USA: The Final Environmental Impact Report for Phase II of the Los Angeles Expo Line light rail project was officially approved by the Exposition Construction Authority on February 5, paving the way for construction to start on this section by the end of the year.
Officials hope the $1·5bn Phase II will be completed by 2015. It will run from the Phase I terminus at Culver City to 4th Street in Santa Monica. An 11·3 km route following a former Southern Pacific alignment has been selected as the locally-preferred alternative, and locations have been agreed for the stations and maintenance depot.
The first part of the Expo Line from the city centre as far as Crenshaw Boulevard is expected to open this year. However, work on the second section of Phase I to Culver City is more than a year behind schedule, and the project has accumulated cost over-runs totalling more than $220m on a budget of $640m. To avoid similar problems with Phase II, ECA plans to award design contracts to two companies, of which one will then be selected to build the route.
Work could also begin this year on the first phase of the Foothill Gold Line extension, after a preliminary funding agreement between Los Angeles County MTA and FECA, the independent authority formed to build the extension, under which MTA will transfer $851m from a local transport sales tax to FECA over the next 11 years.
Phase I of this project will see the Gold Line extended east by 18 km from Pasadena to Azusa, adding six stops. On January 28 FECA decided to invite bids from six pre-qualified companies to erect a 178 m bridge across the Foothill Freeway beyond the current Sierra Madre terminus, connecting the existing line with the right-of-way leading to Azusa.
An RFQ has also been issued for the design-build contract for the extension, which includes track, stations, signalling and a maintenance depot. A request for proposals will be issued to pre-qualified bidders in April, with a view to awarding the contract in September. FECA expects the extension to be ready for revenue service in 2013.
A second phase would extend the line by a further 19 km from Azusa to Montclair and possibly to LA/Ontario International Airport if funding can be identified. Meanwhile, planning continues for the downtown connector, which would link the Blue/Expo and Gold lines through the centre of Los Angeles.