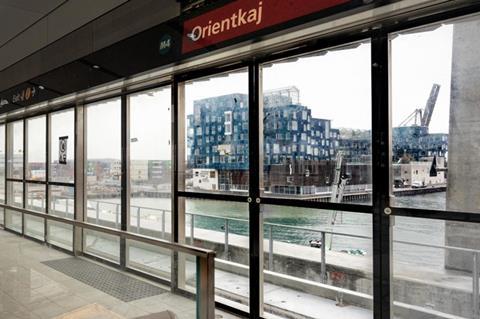 DENMARK: 'It was different to what we had imagined,' said Henrik Plougmann Olsen, CEO of København metro operator Metroselskabet after planned celebrations to mark the opening of Line M4 on March 28 were cancelled because of the coronavirus. 'The trains just started running over the new section, and that was it.'
M4 services share tracks with the existing M3 ring line between København H station and Østerport, doubling the number of trains on this section. They then turn off to run over a 2·2 km branch built at a cost of €310m including 1·9 km of tunnel and the elevated terminus at Orientkaj.
The branch has one intermediate station serving the Nordhavn development area, which is expected to have 40 000 residents and similar number of jobs by 2050. This also provides an interchange with S-tog rail services.
A southern extension of M4 from København H to Ny Ellebjerg with five stations is under construction for opening in 2024.