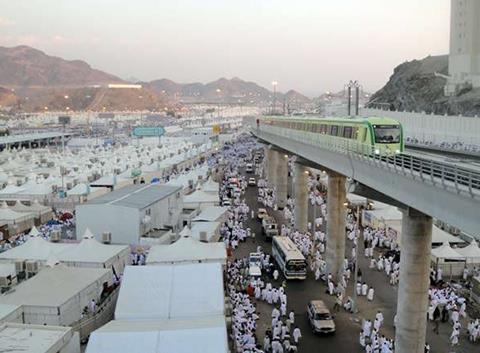 SAUDI ARABIA: Makkah Governor Prince Khaled Al-Faisal has approved the construction of two metro lines under the first phase of Makkah's 62bn riyal public transport project. These would be in addition to the existing Al Mashaaer Al Mugaddassah metro which was built to handle pilgrim traffic.
An 11 km line with seven stations would run mostly underground west from Jamrat along the north side of the Grand Mosque, King Abdul Aziz Road and the future Haramain railway station, terminating at the Makkah-Jeddah Expressway.
The other line would be 33 km long with 15 stations, running south from Madinah Road to reach the west side of the Grand Mosque and Umm Al-Qura University.
The first phase is to cost 25·5bn riyals. Contracts covering civil works, E&M and rolling stock are to awarded early in 2014, with work due to begin in mid-2014 and take three years.
A total of four metro lines are planned, making a 114 km network with 88 stations. These are to be completed within 10 years in three phases.
On November 4 the cabinet announced that a metro would be built in Madinah within eight years. A committee for the project is to be chaired by Madinah Governor Prince Faisal bin Salman.