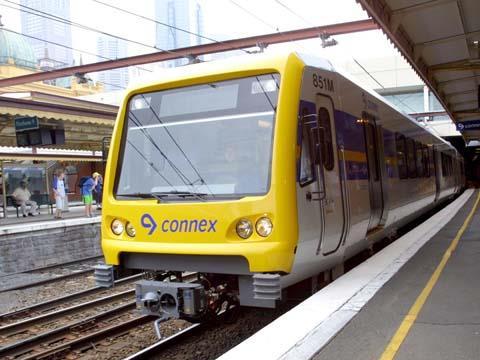 AUSTRALIA: The Victorian government has selected Metro Trains Melbourne as the preferred bidder for a contract to operate Melbourne's rail services, and Keolis Downer EDI Rail to run the city's trams. Both contracts are expected to be signed in August and will run for eight years from December, with optional seven-year extensions.
Hong Kong's MTR Corp owns a 60% stake in MTM, with engineering and property services company United Group and contractor John Holland each owning 20%. Victoria Premier John Brumby said the consortium's offer represented the best value for taxpayers. 'Most importantly, Metro Trains Melbourne made it clear that its priority is to focus on what we believe are non-negotiables for Melbourne commuters: punctuality, safety, reliability, customer service and cleanliness', he said. A new customer service regime will offer incentives to improve passenger information, cleanliness, graffiti removal and security on the 372 km network, which records 3·4 million passenger-journeys a week.
Incumbent operator Veolia Transport and Keolis Downer EDI Rail had also been shortlisted for the contract, under an international tendering process launched in August 2007.
The 249 km tram network will be operated by Keolis Downer EDI Rail, a consortium formed by SNCF subsidiary Keolis and Australian maintenance provider Downer EDI. 'Our trams are an iconic symbol of our city and KDR has proven strategies to improve services, reduce cancellations and increase maintenance', said Brumby. The state's A$38bn transport plan includes funding for up to 50 new trams and a depot.
KDR will take over from fellow bidder TransdevTSL, which has operated the network as Yarra Trams for 10 years. The joint venture of Transdev and Transfield Services said it was 'shocked and disappointed at being overlooked' in the bidding to operate the world's largest tram network.