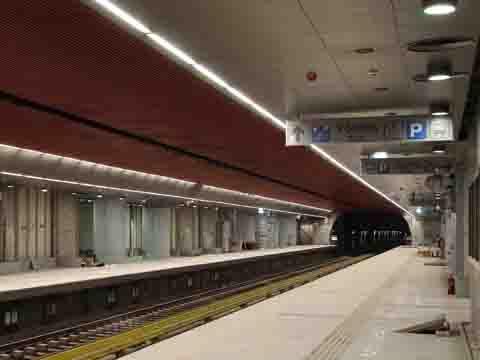 GREECE: On August 31 the section of Attiko metro Line 3 between Ethniki Amyna and Athens airport went back into service, and Nomismatokopeio station was opened to the public for the first time.

The new station has an underground car park and provides an interchange with several bus routes serving the Mesogia area. It is expected to handle more than 60 000 daily passengers.

The eastern stretch of Line 3 was closed on February 13 to allow the construction of three stations - Holargos, Nomismatokopeio and Agia Paraskevi - in the section between Ethniki Amyna and Plakentias. These stations were included in the original design but were not completed due to pressure to complete the metro in time for the Athens Olympic Games in 2004. The boxes for the first two stations were constructed during tunnelling to facilitate future fitting out, whilst Agia Paraskevi station had to be built from scratch.

In the intervening months the suburban railway had been expected to absorb the additional passenger movements to and from the airport, but most of the traffic was transferred to express buses.

Test runs from Ethniki Amyna to the airport restarted on August 23, without passengers. The metro trains use the OSE suburban line for the 21 km between Plakentias and the airport. Following OSE authorisation their speed limit has been increased from 80 km/h to 100 km/h, reducing the time taken to cover the distance from 24 min to 19 min.

According to Attiko Metro, Holargos station will be opened by the end of the year and Agia Paraskevi will follow in spring 2010.