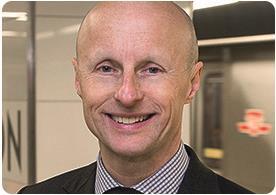 USA: New York City Transit President Andy Byford is to leave his role by the end of February. Announcing his resignation on January 23, Byford highlighted the planned restructuring of New York's Metropolitan Transportation Authority as a factor in his departure.
In his current role, Byford has overall responsibility of the Subway and bus networks, including capital investment and enhancement programmes. However, under the reform programme, 'the centralisation of projects and an expanded HQ' would leave 'agency presidents to focus solely on the day-to-day running of service', he wrote.
Byford has been NYCT President for just over two years, having previously served as CEO of Toronto Transit Commission and Chief Operating Officerfor Sydney Trains. He was also a General Manager for three London Underground lines. His signature initiative in New York has been the Fast Forward programme to accelerate investment in the city's metro network amid mounting political pressure to resolve the reliability problems and declining ridership on the Subway.
In his resignation letter, Byford said he was 'particularly proud' that the state legislature had approved 'unprecedented funding' for the Fast Forward programme. A key tenet is the rapid roll-out of CBTC across the network, to address the unreliability issues caused by ageing legacy electro-mechanical signalling equipment.
However, New York State Governor Andrew Cuomo has been publicly critical of CBTC, describing it as '1970s technology' and pressing MTA to launch an initiative to find alternative technologies.
News of Byford's resignation was met with concern from New York transport advocacy groups. It was also trending on social media, a recognition of Byford's popularity in the city amid signs that the Subway and bus networks were showing improvements under his leadership.