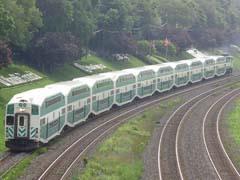 CANADA: On January 26 the Metrolinx Board of Directors approved staff recommendations to move forward with a phased implementation of plans to electrify GO Transit's Lakeshore and Georgetown routes and the future rail link to Pearson International Airport.

A detailed study prepared by the regional transport authority found that electrification would reduce journey times by 5 to 10 min and could save up to C$18m per year in operating costs. It would also be 'a significant step' towards achieving the proposed GO Express Rail service which envisages that trains would run every 5 min during peak hours.

According to the report, the Georgetown and Lakeshore routes have the highest ridership demand and offer greatest potential to reduce journey times. A second rolling stock depot is planned at Whitby on Lakeshore East, which could be used to maintain the electric locos.

The electrification project would cost between C$1·6bn and C$1·8bn and would be implemented in seven phases. The report recommends that the Airport Rail Link should be electrified first, at a cost of C$457m.

A key factor is that the ARL trains will terminate outside Union Station, avoiding the need to extend the catenary into the Union Station trainshed. Moreover, sections of the two corridors over which the ARL would operate are owned by Metrolinx, making it easier to install the equipment. Phase I would include a section of the Lakeshore West corridor to Willowbrook depot where the ARL rolling stock would be stabled.

The proposal will now be submitted to the Ontario Minister of Transportation. The Province of Ontario confirmed on the same day its intention to go ahead with an environmental assessment for the ARL electrification plan.

The ARL electrification could take up to 10 years. However, as the airport link is needed by 2015, when the PanAm Games will be held in Toronto, the route may initially be worked by Sumitomo DMUs. Metrolinx has an option for up to 18 two-car DMUs on the contract awarded by Sonoma-Marin Area Rail Transit to Sumitomo in December.