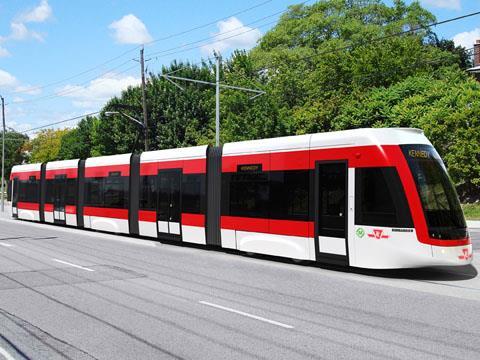 CANADA: Greater Toronto transport agency Metrolinx awarded Bombardier Transportation a C$770m order for a 182 Flexity light rail vehicles in June 14, immediately after the provincial government announced approval of Metrolinx's C$8·1bn '5 in 10' revised programme to complete five major transport projects in 10 years rather than eight to defer C$4bn of spending.
The order for the LRVs was placed as an option on Toronto Transit Commission's June 2009 contract for 204 Flexity Outlook trams, after a study by independent consultant LTK Engineering Services found that negotiations with Bombardier would provide the best value. Deliveries are scheduled for 2013-20, and orders for a further 118 cars could follow.
The LRVs are needed for the four light rail lines to be built under Metrolinx's Transit City expansion plans (the fifth of the '5 in 10' is bus rapid transit). The Sheppard East, Eglinton Crosstown and Finch routes and Scarborough LRT conversion are to be segregated and standard gauge, and as a result the vehicles will have a more 'off the shelf' design than the customised trams now on order for Toronto's traditional street-running lines which have the unusual gauge of 1 495 mm.
The five-module bi-directional LRVs will be around 28 m long and slightly wider than the broad-gauge cars at 2 650 mm, increasing capacity from 240 to 280 passengers. They will be 100% low-floor, with an 'active levelling system' to ease boarding. Unlike the Outlooks they will have doors on both sides and cabs at both ends.
Up to three cars will be able to work in multiple, and they will be equipped for regenerative braking. They will meet regulations for extended tunnel running, and automatic train operation is a possibility on fully segregated routes.
Final assembly will take place at Bombardier's Thunder Bay site in Ontario to meet the requirement for at least 25% Canadian content in provincially-funded cars.