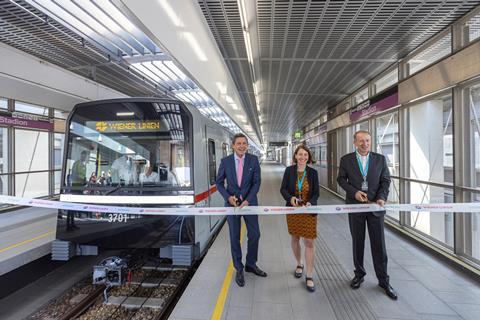 AUSTRIA: Wien 'is taking a big leap into the future of digitalised transport' Siemens Mobility's CEO of Rolling Stock Albrecht Neumann said when the first of 34 Series X metro trainsets entered passenger service on June 16.
'Innovations like the new passenger information system with real-time updates and the air-free brake system are making their world debut, and the fully automated operation coming later on the U5 line will provide great benefits', he said.
The first Series X trainset will initially operate on Line U3 on weekdays, with further sets to enter service over the summer. A total of 10 are scheduled to be delivered by the end of the year, and three more per year from 2024 to the end of 2030.
The Series X sets will replace the existing Series U Silberpfeil trains on lines U1 to U4, and will be used on the future U5 when Wien's first fully-automated line opens in 2026.
Trendsetting technology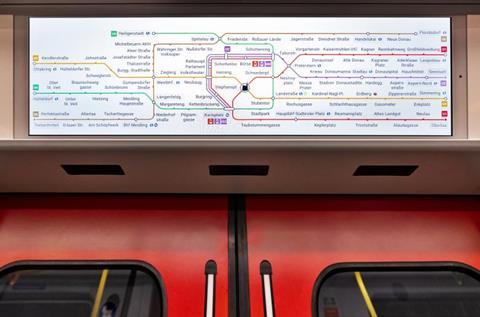 The Series X is 'trendsetting for our climate model city', said Peter Hanke, city councillor responsible for transport. 'A sophisticated train with state-of-the-art technology produced in Wien makes public transport even more attractive and comfortable.'
The real-time Passenger Information Plus system was developed by Siemens Mobility subsidiary Hacon to meet operator Wiener Linien's specific requirements.
Screens above the doors that open at the next station show the direction of the station exits and the departure times for connections on other lines. Screens above doors that will remain closed display a digital network map with the train's current location, direction of travel, next station and transfer options. Information such as planned service changes or out-of-service lifts can be displayed on both sides.
An electronic 'brake by wire' airless braking system developed by Liebherr and Siemens Mobility is being used for the first time.
Siemens Mobility said eliminating compressed air components saves space and weight and will reduce life-cycle costs, with electrodynamic braking down to a standstill reducing wear and maintenance requirements. The time until a vehicle is ready for operation is also reduced from around 12 min to 4 min.
TSA supplied the traction motors.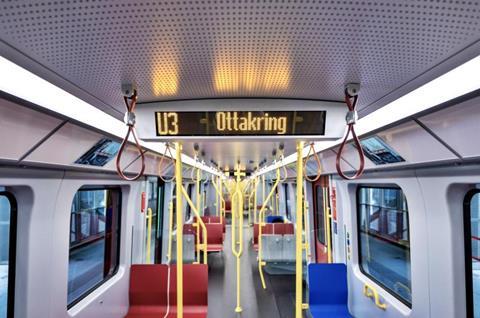 The six-car aluminium-bodied Series X trainset is 111 m long and 2 850 mm wide. It has an open interior with a capacity of 928 passengers, 46 more than the previous Series V trains, with spacious entry areas for rapid passenger flows.
The plywood seats are arranged in a combination of transverse rows and along the sides, as well as folding seats. Priority seats for passengers with reduced mobility are highlighted in blue, and there are six wheelchair spaces.
The control equipment is in a cabinet in the middle of the train, rather than in the cabs, and if lines are converted to automatic operation in the future the cabs could be removed to provide capacity for a further 24 passengers.
Other features included LED lighting, sliding steps at every door, CCTV with live access from the control centre, air-conditioning and regenerative braking,
Siemens Type X trainsets for Wiener Linien

Length m

111·25

Width mm

2 850

Floor height above rail mm

1 000

Axleload tonnes

10·90

Seats

200

Passenger capacity (4/m2)

928

Maximum speed km/h

80

Maximum acceleration m/s2

1·2

Power supply

750 V DC third rail

Wheel diameter mm

840
Maintenance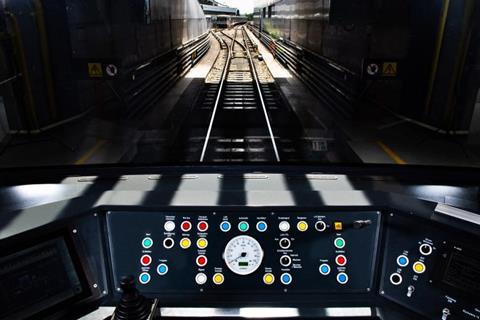 In September 2017 Siemens Mobility beat Bombardier Transportation to win the contract to supply 34 trainsets and provide 24 years of maintenance. There are options for a further 11 trainsets.
The entry into service of the first train marks the start of the agreement for the manufacturer to maintain the trains.
'Despite dealing with the difficult circumstances of the last few years, we manufactured the trains right on schedule in our Wien plant and will also be a good and reliable partner for service and maintenance', said Neumann.