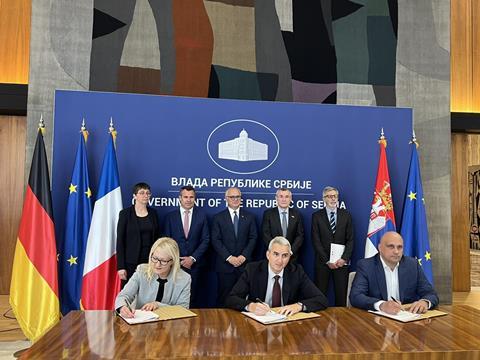 SERBIA: A consortium of DB Engineering & Consulting and Systra has been appointed to provide project management services for the construction of Beograd's first metro line.
The €46m contract announced by the Ministry of Construction, Transport & Infrastructure on May 8 covers project management, planning review and construction supervision services for Line 1.
'We got two great European companies and this is proof that the Beograd Metro is a project that is important even for the biggest European companies', said Minister Goran Vesić. 'It is the largest metro project in Europe and we are happy that large European companies are coming to Beograd'.
Preparatory construction works for the 21·8 km Line 1 with 21 stations and a depot are due to start this year, with opening planned for 2028. Line 2 is expected to follow in 2030.
'We look forward to pioneering a safe and efficient metro system in the region', said Niko Warbanoff, CEO of DB Engineering Consulting Operations Group which includes DB E&C.
'German know-how is in international demand, and we are also using the experience we gain abroad for the railways in Germany. A real win-win situation.'