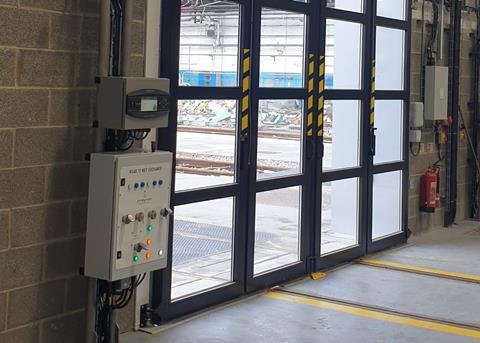 UK: Volker Fitzpatrick has installed a Zonegreen Depot Personnel Protection System on four roads and the wheel lathe at the Tyne & Wear Metro's rebuilt Gosforth depot.
The system provides physical protection for trackside staff using powered derailers controlled by road end panels. It is interfaced with the signalling and third-party equipment including the high-level gantries, crane, wheel lathe and jacks.
Zonegreen has also implemented a treadle warning system on the underfloor cleaning road to notify workers of imminent train movements and allow them to reach a position of safety.
The supplier's Depot Manager SCADA software provides a graphical overview of the depot protection and a permanent log of activity.
'Gosforth is now a world class facility that will not only transform how trains are maintained, but thanks to our tried and tested technology, will also be a sector leader in the creation of a safe, modern working environment', said Zonegreen's Head of Engineering Christian Fletcher.