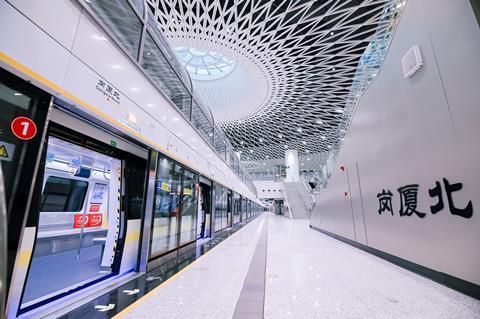 CHINA: The National Development & Reform Commission has approved the fifth phase of the Shenzhen metro development programme. This includes 182·8 km of new lines and extensions.
Shenzhen metro development programme phase five
Line
Description
Length, km
Stations
Line 15
loop line
32·2
24
Line 17 first phase
Luohu Xi to Shanglilang
18·8
18
Line 19 first phase
Nantangwei to Julong
12·5
12
Line 20 second phase
Jichang Bei (Airport North) to Baishizhou
24·9
11
Line 22 first phase
Shangsha to Liguang
34·2
21
Line 25 first phase
Shilong to Jihua Yiyuan
16·2
14
Line 27 first phase
Songpingcun to Gangtou Xi
23·2
19
Line 29 first phase
Hongshuwan Dong to Xingdong
11·3
10
Line 32 first phase
Xichong to Kuichong Dong
9·5
5
The Shenzhen sections of proposed extensions of Line 10 from Shuangyong Jie to Huanggekeng and Line 11 beyond Bitou were also approved, but approval for the sections within Dongguan are still required.
The first phases of lines 18 and 21 were not approved.