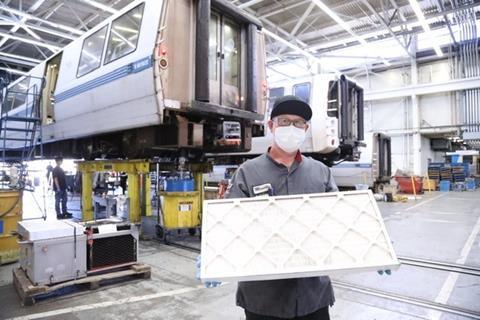 USA: San Francisco's BART is 'actively evaluating many different technologies' that could potentially be used to combat the coronavirus, according to Chief Safety Officer Jeff Lau.
Following a six-month pilot, BART has approved the installation of denser filters in the heating and air conditioning unit underneath each coach. The previous MERV-8 filters could trap particles between 3 and 10 μm in size, while the new MERV-14 design can capture much smaller particles between 0·3 and 1 μm.
BART said its ventilation is 'extremely robust', with the air in each car being replaced about every 70 sec and the air onboard being about 75% filtered air and 25% drawn from outside.
Another pilot project is testing an ultraviolet UV-C lighting rod inside one coach's HVAC unit. 'We're still monitoring that', said Ben Holland, Manager of Vehicle System Engineering. 'So far it's been working well. We're still trying to figure out how to replicate that into Fleet of the Future HVAC units.'
Preliminary discussions have been with scientists from the Lawrence Livermore National Laboratory regarding simulations that could mimic a sneeze or cough to quantify the flow and travel of aerosols that can carry coronavirus or other pathogens.
Trains are being disinfected overnight using manually operated electrostatic foggers. The use of a robot that could move through cars spraying disinfectant was tested, but it had difficulties accessing and moving between the trains and so a smaller device that can vacuum and disinfect at the same time is to be evaluated.
'We are open to all different kinds of technologies and innovations', said Lau. 'We are trying to be a leader in the industry in keeping our patrons and employees safe. I'm very confident that our system will be as safe, maybe even safer, than before Covid, thanks to enhanced cleaning and changes in behaviour like wearing masks.'