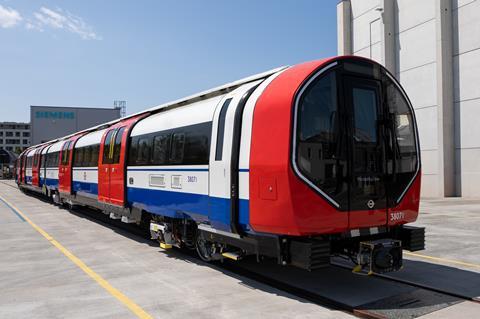 UK: The first of the trainsets which Siemens Mobility is supplying to replace the existing 1970s fleet on London Underground's Piccadilly Line has arrived at the Wegberg-Wildenrath Test & Validation Centre in Germany from the company's factory at Wien in Austria.
Tests will include acceleration, braking, noise and vibration, as well as onboard hardware and software and interfaces with off-train equipment.
Delivery to the UK is planned for 2024, ahead of the trains entering service in 2025.
'These new trains will transform travel on the Piccadilly Line, making them more comfortable for passengers and improving people's daily journeys', said Mayor of London Sadiq Khan on August 1.
Inspiro London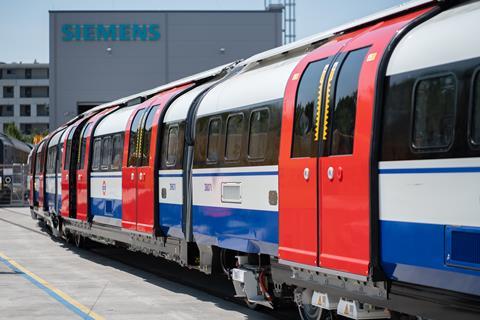 The trains are based on Siemens Mobility's Inspiro metro family.
The articulated configuration with a walk-through interior is designed to increase capacity by 10% compared to the current 1973 stock, while offering improved accessibility. Wider doors will speed up boarding and alighting, while passengers will be able to move along the train to find more room. The articulated design reduces the total number of bogies, making the new trains lighter.
They will be the first trains on London's small-profile deep-level tube network to be fitted with air-conditioning.
Around half of the 94 nine-car trainsets will be produced in Wien, with the rest to be assembled at a £200m factory at Goole in East Yorkshire, which is currently being fitted out ready for production to start in early 2024.
Inspiro London technical data
Train configuration
nine cars
Length over couplings
113·7 m
Width over passenger doors
2 648 mm
Height above top of rail
2 844 mm
Entrance height above top of rail
700 mm
Passenger capacity per train (5 passengers/m2)
1 076 (268 seated)
Door width
1 690 mm
Maximum traction power
2 500 kW
Maximum operating speed
100 km/h
Bakerloo Line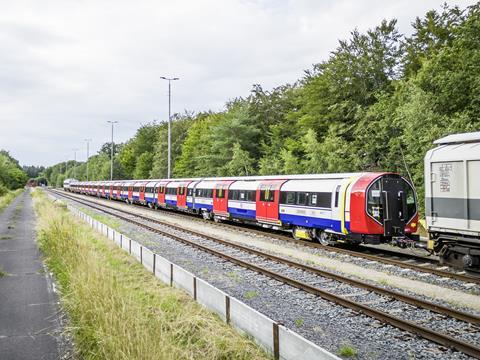 The Piccadilly Line fleet replacement contract which Transport for London awarded to Siemens Mobility in November 2018 is valued at around £1·48bn plus VAT.
TfL has options to order further trains for use on the Bakerloo, Central and Waterloo & City lines, subject to funding being secured.
'We hope to follow the introduction of these new trains to the Piccadilly Line by doing the same on the Bakerloo Line, replacing the 51-year-old trains that it currently operates, and then by introducing new signalling across the deep tube lines to realise the full benefits of the new trains', said Chief Capital Officer Stuart Harvey.
'However, such large-scale investment will not be possible without continued capital investment from the government from April 2024.'