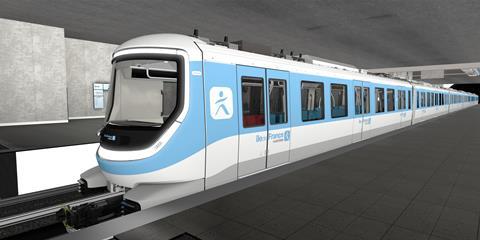 FRANCE: Parisians will be able to see at first hand what the future trains and stations of the first part of the Grand Paris Express metro will look like from October 3, when Société de Grand Paris and Ile de France Mobilités will unveil a full-scale mock-up of a metro car together with an exhibition of station features and furniture at the 2 500 m2 Fabrique du metro in Saint-Ouen.
Apart from the rolling stock mock-up, the site includes a replica platform with screen doors.
The exhibition will be used to test the designs proposed for lines 15, 16 and 17 and to gauge reaction from future passengers. Lift entrances, escalator areas, signage and signposting will be on display, together with different forms of information, including maps and interactive panels.
Open days at the Fabrique du metro will be offered on the first Saturday of each month. The styling and designs on show there are the work of Patrick Jouin, an object design specialist, and graphic design artist Ruedi Baur. Rolling stock supplier Alstom meanwhile has been assisted by sensory design specialist RCP Design Global to develop a more spacious, clean and relaxing travelling environment for the future network.
A tunnel boring machine for the section of Grand Paris Express Line 17 from Saint-Denis Pleyel to Mesnil-Amelot was named Florence on September 18 at a ceremony in Bonneuil-en-France.