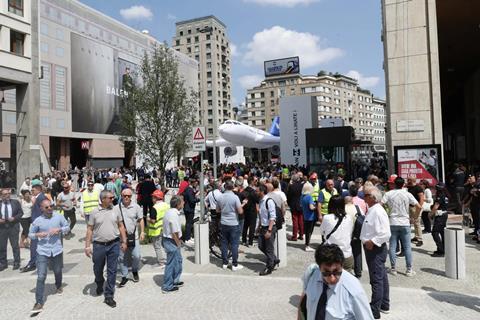 ITALY: An extension of Milano metro Line M4 has opened, providing a direct link from Linate airport to the city centre.
The 5·3 km first phase of M4 from the airport as far as Dateo opened in November 2022, but was initially isolated from the rest of the network.
On July 4 Infrastructure & Transport Minister Matteo Salvini and Mayor Giuseppe Sala opened a 1·7 km extension from Dateo to Tricolore and an interchange with M1 at San Babila in the city centre, with celebrations including an afternoon of free travel.
Services will run every 3 min at peak times. Local bus services are being reconfigured from July 5.
A further 7·7 km extension west to San Cristoforo is scheduled to open in late 2024, taking the line to 15 km and 21 stations. Completion of a 3·1 km two-station eastern extension from the airport to Segrate is planned for 2026.
'Technologically advanced metro line'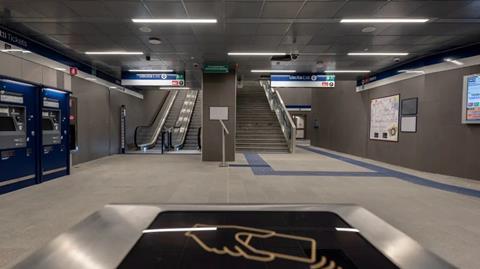 Line M4, also known as the Blue Line, is being developed under a design, built and maintain contract by the M4 consortium which includes civils contractor Webuild and railway systems supplier Hitachi Rail.
The project is helping to address 'a decade-long investment gap' that had limited Italy's competitiveness, said Webuild CEO Pietro Salini. 'We are particularly proud to have built this technologically advanced metro line, which strengthens Milano's leadership in Europe as one of the most liveable cities'.
Salini said 'some of the best' people in the industry are are working on the project 'to overcome very complex engineering challenges in a densely populated city'. The archaeological work undertaken shows 'it is possible to develop cities while safeguarding history and the culture of the generations that preceded us'.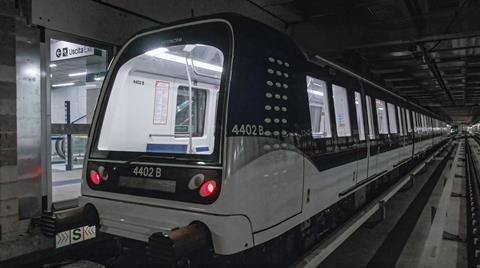 Hitachi Rail is supplying the driverless trains, CBTC, telecoms, ticketing and access control systems.
The 47 Class 4400 trainsets are similar to vehicles supplied to cities including København, Riyadh and Honolulu. The 750 V DC third rail four-car sets are 50 m long with a capacity of up to 500 passengers and a maximum speed of 80 km/h.
Hitachi Rail said the latest extension was expected to trigger a significant shift to public transport across the city by reducing the journey time to the airport from 33 to 12 min.
'Our work to connect San Babila will allow Milano's citizens and visitors to leave their cars at home when they travel to the airport', said Hitachi Rail Group COO Luca D'Aquila. 'This is a significant milestone for the city in achieving mass modal shift from private to public transport. When the new Blue Line is complete next year, it will remove 4·43 million cars from the road helping to dramatically cut congestion, carbon emissions and harmful air pollution.'
The M4 project delivery consortium
Organisation
%
Milano city council
66·667
Webuild
9·634
Partecipazione Italia
9·634
Hitachi Rail STS
11·293
ATM (operator)
2·333
Sirti
0·100
AnsaldoBreda
0·100
Mermec STE
0·239