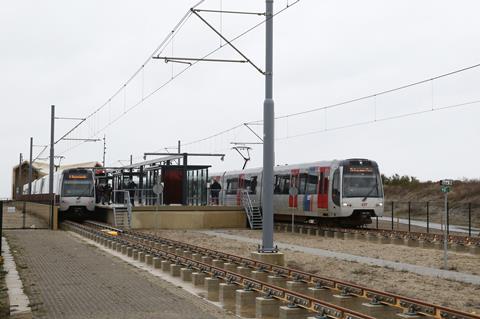 NETHERLANDS: The final 2·1 km section of RET metro Line B to the seaside station at Hoek van Holland Strand has opened, enabling people to reach the beach from the centre of Rotterdam in around 40 min.
The terminus has two tracks with a central platform. There is an initial service of three trains/h on weekdays and Saturday afternoons and half-hourly on Sundays and holidays.
The opening on a rainy March 31 completes the project to replace passenger trains with metro services on the Hoek van Holland line, which was once an important international rail route with connections to ferries.
The previous NS main line passenger services stopped at the end of March 2017 for what was initially planned as a six-month rebuilding. But metro services to Hoek van Holland Haven did not launch until September 2019.
Rebuilding the section from Hoek van Holland Haven to Strand and extending the line closer to the beach formed the next phase of the project. This took longer than expected, with the start of revenue services put back from the previously planned opening in summer 2022.