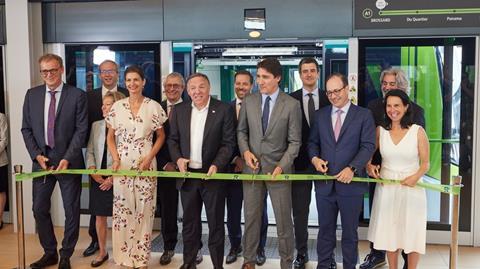 CANADA: The first section of Montreal's Réseau Express Métropolitain automated light metro was formally inaugurated by Prime Minister Justin Trudeau, Premier of Québec François Legault and Mayor Valérie Plante on July 28.
Large numbers of people took advantage of a weekend of free travel on July 29-30 ahead of the start of revenue services on July 31.
'The REM is one of the most ambitious public transit projects in Québec in the last 50 years, and it will transform the way people get around the Greater Montréal area', said Trudeau. 'The REM will reduce the number of cars on the road to make traffic flow better and make our air cleaner. This major project is another step toward making life better for Canadian families.'
First section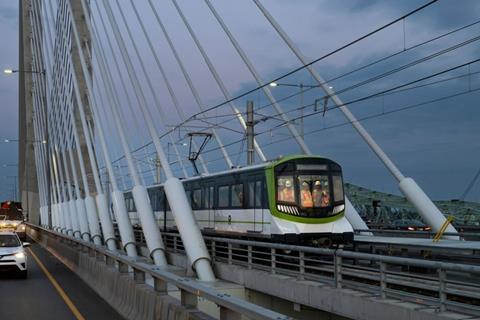 The 16·6 km first section links Brossard on the South Shore with Montréal Centrale station, crossing the St Lawrence River via the Samuel De Champlain Bridge. There are five stations. Services will operate for 20 h each day, with trains running every 7½ min off-peak and doubling to every 3 min 45 sec at peak times. End-to-end journey time is 18 min.
The line 'is the first phase of a network that will transform sustainable mobility, catalyse new community developments in Greater Montréal and have a significant economic impact for Québec as a whole', explained Charles Emond, President & CEO of public pension and insurance investor Caisse de dépôt et placement du Québec. 'The REM speaks to our dual mandate, as it will generate significant economic benefits for Québec and each time passengers step on board, they will contribute to financing their retirement.'
When the C$6·9bn REM network is completed in 2024, it will be one of the world's largest automated metros. Running for 67 km and serving 26 stations, it will connect central Montréal to the South Shore, North Shore and West Island. An extension to Pierre Elliott Trudeau International Airport is scheduled to open in 2027.
Legault said the REM was 'a fine example of our efforts to provide Québecers with fast, environmentally-friendly and practical public transport infrastructure. Serving citizens living in the suburbs outside the city centres is a major challenge, and this is precisely what the REM will make possible.'
Development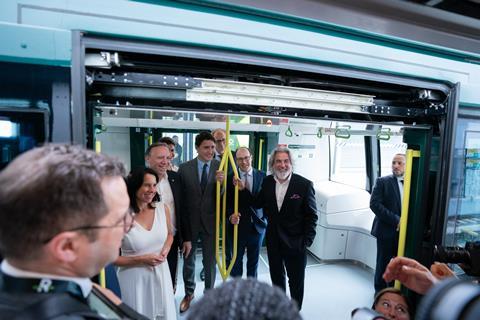 Proposals for the development of an automated network separate from Montréal's existing rubber-tyred metro were unveiled by CDPQ Infra in 2016. The CDPQ subsidiary had been established the previous year to study infrastructure projects suggested by the provincial government. A financing package was agreed in 2017, with backing from CDPQ and the province of Québec as well as a federal contribution through Canada Infrastructure Bank.
The two main contracts for developing, equipping and operating the network were announced by CDPQ Infra in February 2018.
The C$5bn infrastructure engineering, procurement and construction contract was awarded to the Groupe NouvLR consortium of SNC-Lavalin Grands Projets, Dragados Canada, Groupe Aecon Québec, Pomerleau and EBC.
The C$2·8bn contract to supply rolling stock and systems, along with 30 years of operations and maintenance was won by the Groupe des Partenaires pour la Mobilité des Montréalais consortium of Alstom and SNC-Lavalin.
Turnkey showcase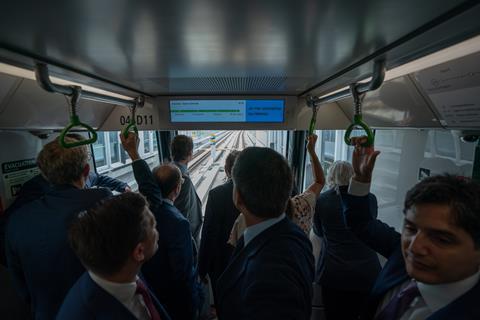 Alstom is supplying 106 two-car Metropolis trainsets, and said the styling of the units was 'inspired by Montréal's landscape and history'. The trains are designed 'to perfectly fuse with the green spaces of the city', offering passengers 'breathtaking views' through the large windows.
The trains are similar to those supplied for the Sydney metro, but adapted for Canadian conditions. The front is shaped to prevent snow accumulation, and the cars have heated door thresholds, floors and autocouplers, as well as ice protection equipment, heated windscreens and ice scrapers on the pantographs.
The green and white livery is inspired by the Samuel De Champlain Bridge, with the headlights 'directly recalling' its stays.
Alstom is also supplying the Urbalis CBTC for GoA4 driverless operation and Iconis control technology, as well as platform screen doors, wi-fi, cybersecurity, depot equipment and HealthHub for predictive maintenance and fleet management.
'This project is a great showcase for demonstrating Alstom's leadership to serve its customers from A to Z, bringing together its undisputable integrated turnkey and services leadership and expertise', commented Chairman & CEO Henri Poupart-Lafarge.