Metro Report International takes an exclusive preview ride on the driverless metro serving a women's university campus in Riyadh.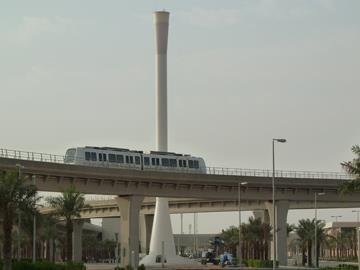 SAUDI ARABIA: An 11·5 km driverless light metro serving the Princess Nourah Bint Abdulrahman University on the outskirts of Riyadh is due to enter service this week, following the end of Ramadan on August 19.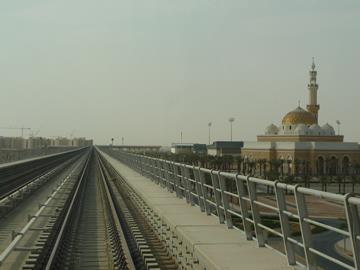 Claimed by the developers to be the world's first metro system entirely within a university campus, the PNU metro has been built by a consortium headed by Ansaldo STS, based on the technology used in service in København and being supplied for Brescia, Milano Line 5, Roma Line C, Taipei's Yellow Line and Honolulu.
Saudi Binladin Group began civil works in 2009, with Ansaldo STS having just 10 months to install systems before King Abdullah made an inaugural journey when he dedicated the campus on May 15 2011. Ansaldo STS has overseen commissioning over the last year.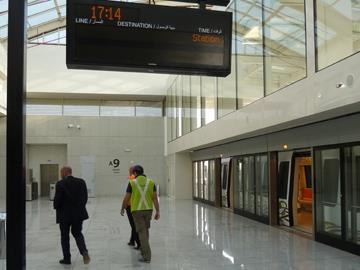 The service is based on four routes. Two serve the 10-station loop, clockwise and anti-clockwise, providing students with access to all the main faculty buildings at the centre of the 800 ha campus. Two further routes run from the outer anti-clockwise loop onto branches serving family and single students' accommodation, each with two further stations.
The entire network is on viaduct, apart from the depot where there is covered stabling, a train washer, maintenance facilities and control room.
The 22 two-car trains supplied by AnsaldoBreda are based on the København cars, but enhanced air-conditioning and protection against dust has been fitted to cope with the desert conditions. There is seating for 24 passengers, plus space for 86 standees; most passengers will stand because of the very short journey times.
Trains will operate at up to 60 km/h, with Ansaldo STS's automatic train control enabling headways of 90 sec and providing capacity for up to 4 400 passengers/h/direction.
In keeping with all the university's facilities, the stations are built on a grand scale. Each is fully-enclosed and air-conditioned, with two 35 m platform faces fitted with screen doors. Escalators descend to a mezzanine level giving access to university buildings via elevated walkways, and to the restricted-access central zone within the loop. Further escalators link down to a concourse at street level. To respect cultural requirements, CCTV is only installed in the depot area.