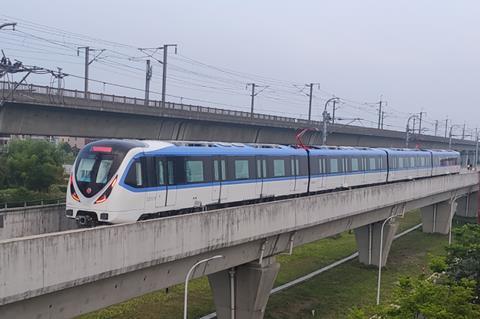 CHINA: The second metro line in Shaoxing was opened on July 26, running for 10·8 km from Jinghu Hospital in the west to Tandu in the east.
The line has nine stations including an interchange at Meishan Square with the north-south Line 1, which opened in June 2021.
Line 2 is operated using four-car Type B trainsets equipped for GoA4 unattended operation at up to 100 km/h. The infrastructure has been designed to accommodate six-car trainsets, making provision for future expansion.
Trains are initially operating every 8 min, offering an end to end journey time of 17½ min.
Line 2 forms part of the Shaoxing Urban Rail Transit Phase I Construction Plan, which was approved by the National Development & Reform Commission in May 2016. Construction of the first phase began in March 2020. Work on the 26 km second phase running east from Tandu is scheduled to begin in late 2023, with opening envisaged for December 2028.