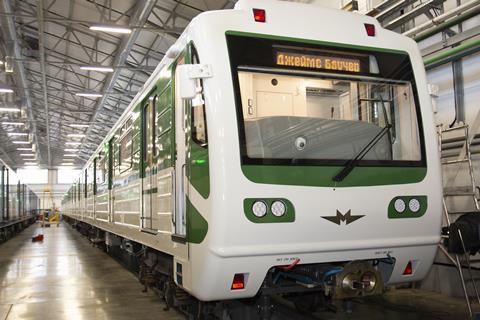 BULGARIA: Sofia Metro has awarded Transmashholding's Metrowagonmash subsidiary a firm contract to modernise an additional 40 Series 81-717.4/714.4 metro cars. This is intended to improve the passenger experience, reduce operating costs and maintenance requirements, and ensure a further 15 years of service.
To minimise the impact on services while the vehicles are being modernised, the project is to be split into three phases each taking 12 months. The first and second phases will each cover three four-car sets, while four sets will be tackle in the third batch.
The work will include interior and exterior refurbishment, with the installation of new wheelsets, wheel slide protection, new couplers, materials complying with the latest fire safety regulations, safer window glazing, more comfortable seats, smoke and temperature sensors, LED information displays and warm-to-the-touch handrails. Accessibility zones will be provided in the driving cars.
The agreement announced on March 25 is an option on a contract for the modernisation of an initial eight cars which was signed in December 2018. These vehicles were returned to Sofia Metro in February.