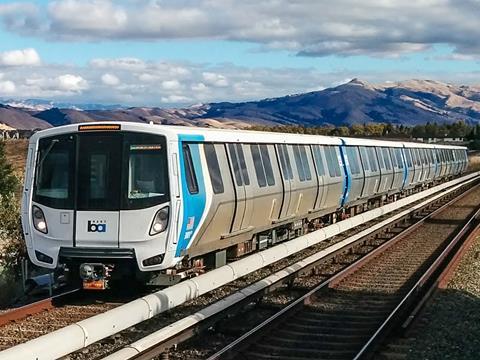 USA: The first train of BART's Fleet of the Future has entered passenger service in San Francisco. The 10-car trainset is initially running on the Richmond – Warm Springs/South Fremont route during off-peak hours.
Bombardier Transportation is supplying 775 cars under a framework contract signed in 2012 and subsequent options. To date, 20 cars have been delivered from Bombardier's factory in Plattsburgh, New York. Deliveries are due to be completed by 2022.
The new cars are intended to replace BART's entire existing fleet. They are fitted with Bombardier's Mitrac propulsion equipment, are equipped for regenerative braking, and have three doors on each side instead of two.
BART notes that since it signed the framework contract in 2012, ridership on the network has grown by 14%. The operator is currently seeking funding for an 306 more cars, which it would need to operate a planned southern extension.