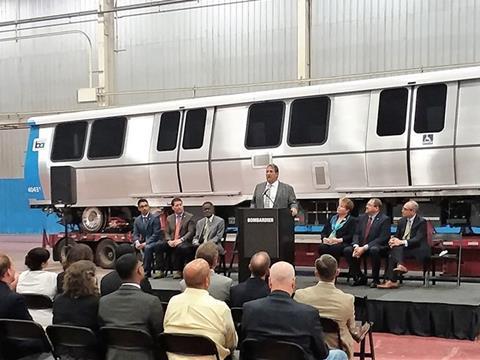 USA: Bombardier Transportation announced on June 14 that it is opening an assembly plant in Pittsburg, California.
The first vehicles to be assembled at the new factory will be the Fleet of the Future metro cars that Bombardier is supplying for the BART network serving San Francisco. Intended to replace the entire existing fleet, the 775 cars are being supplied under a framework contract signed in 2012 and subsequent options.
Assembly of the Fleet of the Future is currently taking place at Bombardier's site in Plattsburgh, New York, and this work will be transferred to Pittsburg 'over the coming months'. The first of the new trains entered service in January 2018 and deliveries are due to be completed by 2022.
Bombardier says that moving the work to California will free up capacity at Plattsburgh for 'new and upcoming east coast orders'. 'We are pleased that the new rail cars for Bay Area passengers will now be produced in the Bay Area by Bay Area citizens', said President, Americas Division, Elliot Sander. 'The Pittsburg site will also enable Bombardier to pursue additional business opportunities in the growing rail transit equipment market on the West Coast and to serve this market with increased effectiveness.'