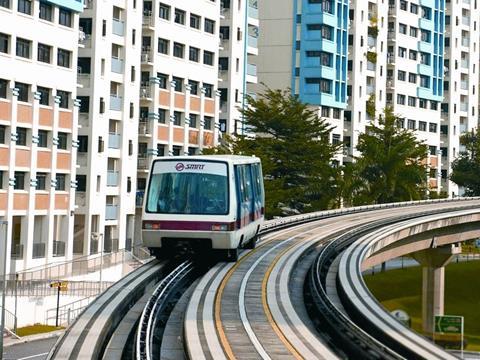 SINGAPORE: Land Transport Authority has awarded Bombardier a S$344·3m contract to upgrade the Bukit Panjang peoplemover. This will include new vehicles, signalling and electrification.
Work is due to commence this year on modernising the 7·8 km automated line in the northwest of the city. The new vehicles and signalling are due to be in service by the end of 2022. All work, including the installation of new power rails and the decommissioning of legacy track circuits, is due to be completed by 2024.
Bombardier will supply CBTC to replace the existing signalling; this includes onboard equipment for the 13 vehicles introduced in 2015. The 19 vehicles that were supplied for the opening of the line in 1999 are to be replaced.
Bombardier is to deliver the first two new vehicles for testing and commissioning in the third quarter of 2020. These would have AC traction motors, LED lighting and better air-conditioning that the vehicles they are replacing. The new fleet is to be equipped with condition monitoring.
Most of the work is to be carried out during engineering hours. 'After careful assessment, we have decided to award the contract to Bombardier as their proposal satisfied our key requirement, which is to minimise inconvenience to residents and commuters during the period of upgrading and improvement', said LTA Deputy Chief Executive for Infrastructure & Development Chua Chong Kheng on March 7. 'Bombardier's proposal does not require any modification to existing infrastructure and minimal disruption to rail services, and hence met our specifications.'
Under a pilot project, Bombardier will provide 10 years of service support to operator SMRT. The supplier will also provide staff training.