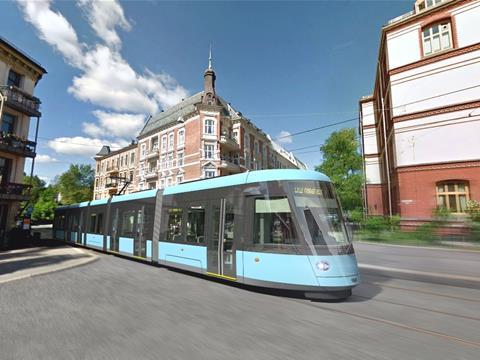 NORWAY: Oslo public transport operator Sporveien has selected CAF to supply 87 trams, it announced on June 11. The €200m contract includes options for 60 more vehicles.
CAF is to supply 100% low-floor Urbos 100 trams similar to those that it has supplied to Nantes in France. Designated SL18 by the operator, the trams will be designed to withstand cold winters. They will be equipped with radar for obstacle detection, wi-fi, USB sockets and passenger information screens. At 34·2 m long with six double doors, the trams will have a capacity for 220 passengers.
Two pre-series trams are to be tested in 2020, ahead of deliveries of the series-built vehicles in 2021-24. This would allow the current fleet of 40 SL79 and 32 SL95 trams would be withdrawn. According to Sporveien, the new fleet of SL18 trams will enable nearly twice as many passengers to be carried across the network as now, so will cater for the expected growth in ridership demand in the coming years.
The trams have been ordered as part of a project that also includes infrastructure and depot upgrades.