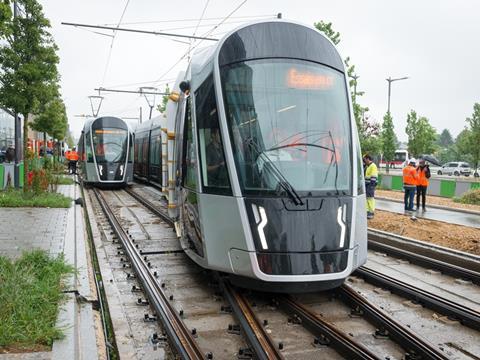 LUXEMBOURG: Project promoter Luxtram has selected CAF to supply 12 trams for the next phase of the Luxembourg City tram line. The contract for Urbos 3 trams is worth €40m.
CAF supplied the initial fleet of 21 trams under a contract signed in 2015. These have been in revenue service since December 10, when the initial section of the tram route opened, linking Luxexpo and Pafendall-Rout Bréck. The full route is expected to open in 2021 and would link Luxembourg Airport with Cloche d'Or.
A section of the route between Cloche d'Or and Gare Centrale will be designed for catenary-free operation. The trams are fitted with supercapacitors that will be charged from ground-level rapid charging equipment at stops; this will be supplied by CAF Power & Automation.