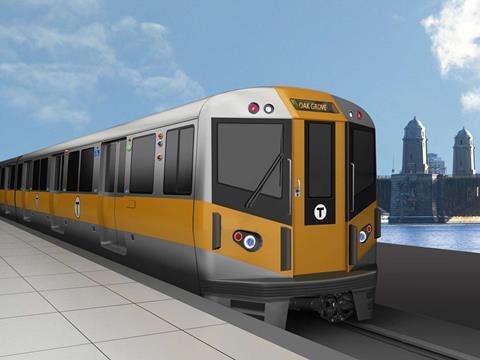 USA: Massachusetts Bay Transportation Authority's Fiscal & Management Control Board has approved the award of a $277m contract for CRRC MA Corp to supply an additional 120 metro cars for Boston's Red Line, with an option for a further 14.
Subsidiaries of what is now CRRC were selected in 2014 for a $566m contract to supply 284 metro cars to Boston, including 132 to replace the oldest No 1 series Red Line vehicles by 2022. This would have left 84 existing Red Line cars in need of extensive refurbishment, and the latest order will enable these to be replaced rather than modernised.
MBTA believes that operating standardised fleet on the Red Line will enable headways to be reduced from 4½ min to 3 min, increasing capacity by 30 000 passengers/h, and also facilitate the implementation of an efficient life cycle based maintenance programme.
The cars will be supplied from the factory which CRRC is building in Springfield, Massachusetts. Completion of this facility is expected in September 2017, with manufacturing to begin in April 2018. The latest order will provide work for the plant through to 2023.
'This is a historic day for the MBTA, certainly for our Red Line riders', said Chief Operating Officer Jeff Gonneville on December 12. 'The MBTA will have 120 new cars good for 30 years instead of getting no more than 10 years of extra life out of a fleet of 84 cars that are already nearly 25 years old. The new cars will cost $310 000 less per car than overhauling the old cars currently in use.'