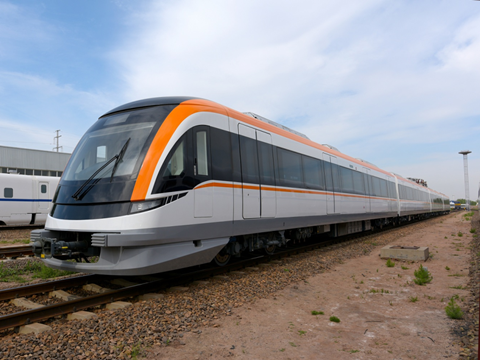 CHINA: CRRC Qingdao Sifang unveiled a new version of its suburban electric multiple-unit family at the UrTran 2017 exhibition in Beijing in late June.
Designed for journeys of 50 to 100 km, which are longer than those typically made by metro, the EMU has more powerful traction equipment than a metro train, enabling it to reach speeds of up to 140 km/h. Like metro trains, it features rapid acceleration and braking. The dual-system unit is capable of drawing power at 25 kV 50 Hz and 1·5 kV DC.
The design is based on CRRC's Type A metro platform, with wide doorways for boarding and alighting. Added interior features are intended to enhance comfort on longer journeys.
CRRC says that the train forms part of a vision to create a '1 h metropolitan area', where faster trains could serve outer suburbs and satellite cities that could be reached in an hour from the centre of a large city. Several cities are developing such networks, including Beijing, Guangzhou, Wuhan and Wenzhou.