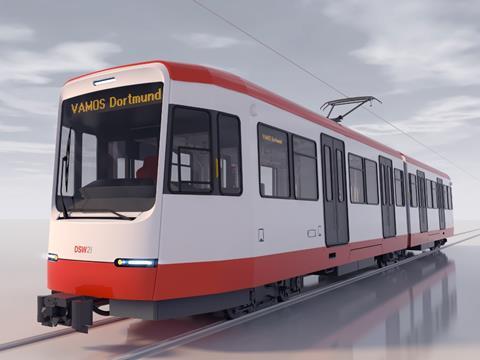 GERMANY: Dortmund public transport authority DSW21 has awarded a €195m contract to a consortium of HeiterBlick and Kiepe Electric to supply 24 light rail vehicles and modernise 64 from the existing fleet.
The first of the new high-floor bidirectional two-section LRVs is due to be delivered in 2020 and enter service the following year. Kiepe Electric is supplying electrical equipment, and HeiterBlick is responsible for mechanical equipment as well as final assembly at its plant in Leipzig. The contract includes an option for two more vehicles.
The consortium will also modernise 43 two-section and 21 three-section B80C LRVs. The work includes the installation of an audio-visual passenger information system. The floor is to be lowered by 20 m, which together with a 30 mm lowering at stops achieved through pneumatic 'kneeling' would achieve a more accessible boarding level.
Work is scheduled to be completed in 2028, by which time 10 of DSW21's B100 vehicles are due to be withdrawn from service.
DSW21 Director Hubert Jung said that the 74 LRVs in service on lines U41, U42, U45, U46, U47 and U49 'no longer fulfil modern requirements in areas like accessibility or passenger information.' He added: 'In addition, we are reaching capacity limits at certain times on some lines. Therefore it is important not only to modernise the fleet, but also to enlarge it.'