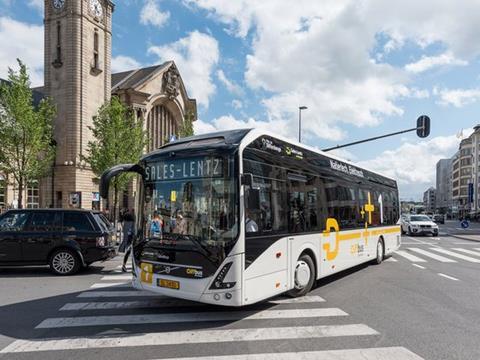 LUXEMBOURG: The first series-built fully electric buses in Differdange have entered service.
Volvo has supplied four of its 7900 Electric buses to operator Sales-Lentz. These will be used on four routes of between 8 km and 9·5 km. Charging takes place every 25 min at the termini, with two Heliox opportunity charging stations that charge the batteries at 300 kWh for 3 to 6 min. The batteries are fully charged overnight, taking 3 to 4 h.
The 12 m long buses have capacity for 85 passengers. They are equipped with wi-fi and USB charging points.
Explaining the reasons for buying electric buses, Sales-Lentz Technical Director Georges Hilbert said: 'In our opinion, the noise aspect is at least as important as the emissions. It is an industrial city with narrow streets, many one way, and noise is more critical than in a capital city with wide boulevards.'
Sales-Lentz had previously purchased 12 Electric Hybrid buses and 30 Hybrid buses from Volvo, which are used on inter-city routes.
'Full electric was the next logical step after electric-hybrid, ahead in our strategy for sustainable urban mobility', said Sales-Lentz Director Jos Sales. 'We are excited to have done this turn-around in exactly nine months.'