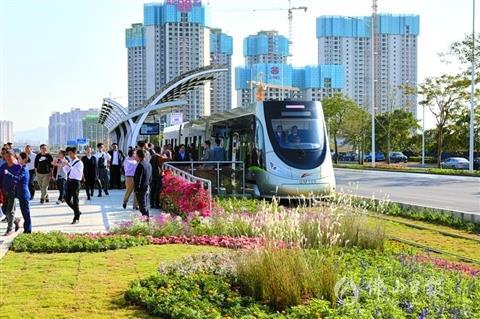 CHINA: A hydrogen fuel cell tram has started test running on the Gaoming Line in Foshan, ahead of opening of the city's first tram route later this month.
The 17·4 km Gaoming Line on the west bank of the Xijiang River is intended to serve 20 stops when completed. The first phase will serve 10 stops on a 6·5 km section of the route.
CRRC Qingdao Sifang is supplying eight trams powered by hydrogen fuel cells developed with Canadian company Ballard Power Systems under a C$6m agreement. The three-section low-floor trams have capacity for 285 passengers and a maximum speed of 70 km/h. Six hydrogen storage cylinders give the vehicles a range of 100 km.
Foshan is investing heavily in the technology, having reportedly already put 768 hydrogen powered vehicles into service by the end of October. It has a network of six refuelling stations, with another 12 expected to come on line by the end of this year.
Fuel cell trams are already in service in Qingdao and Tangshan.