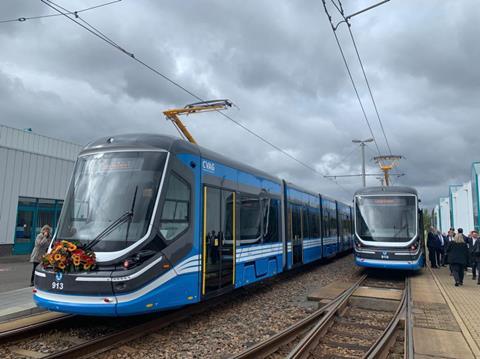 GERMANY: The first ForCity Classic trams that Škoda Transportation is supplying to Chemnitz entered passenger service on September 25.
Chemnitz transport operator CVAG and Škoda signed a €35m contract in June 2016 for the supply of 14 bidirectional fully low-floor vehicles, marking Škoda's first tram order for Germany.
The stainless steel bodied trams are 31·4 m long and 2 650 mm wide with capacity for 281 passengers including 64 seated. Permanent magnet motors enable a maximum speed of 80 km/h, and the trams are equipped with air-conditioning.
Half of the order's cost is being financed from federal funds allocated to the Land of Sachsen. As well as replacing 10 high-floor Tatra T3D-M trams, four extra vehicles are needed for the opening of Route 3 to Reichenhainer Straße, which is currently under construction.