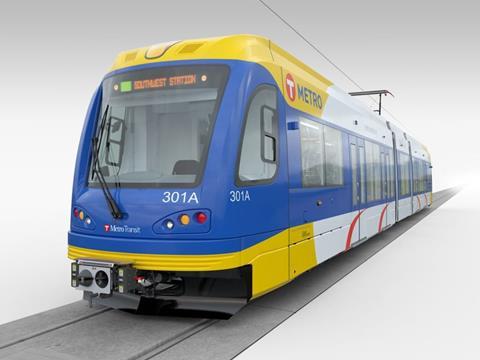 USA: The Twin Cities' Metropolitan Council has selected Siemens to supply its third generation of light rail vehicles, to operate the 23·5 km Southwest LRT linking Minneapolis and Eden Prarie.
Met Council announced on October 26 that it had issued a Limited Notice to Proceed authorising Siemens to begin engineering an updated version of its S70 design. However, the $118m contract for an initial build of 27 vehicles cannot be finalised until the Federal Transit Administration confirms its share of the financing under a Full Funding Grant Agreement in 'summer 2017'. In September Met Council reached agreement with the Counties Transit Improvement Board and Hennepin County Regional Railroad Authority to raise an additional $144·5m which will complete the local funding for the $1·86bn project.
'Awarding and executing the contract now helps avoid cost escalation', explained Met Council Chair Adam Duininck. 'It also allows for the nearly two years needed to design, produce and deliver the vehicles in time to do several months of testing before revenue service begins in 2021.' The agency added that the contract price was 5% lower than the estimate included in the project cost.
Siemens has already supplied 59 Type 2 LRVs for use on Metro Transit's Green and Blue lines, and is currently building an extra five under an option exercised in September 2015. However, the remaining options in its 2010 contract expired last year, requiring Met Council to call new tenders in October for the next build of cars. The Type 3 contract includes options for up to 50 more cars, which would be ordered to work the 20·9 km Bottineau LRT and to cope with rising demand.
According to Siemens, the updated S70 will have a redesigned centre section to improve passenger flow for wheelchairs and bicycles, ice cutters to remove sleet from the overhead wires, and preferred seating to meet Americans with Disabilities guidelines.
Read more about the Southwest LRT and Twin Cities light rail expansion in the September 2016 issue of Metro Report International.