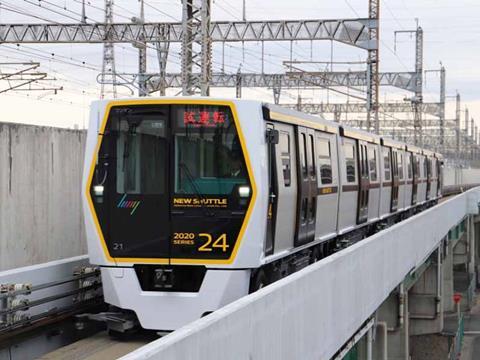 JAPAN: Mitsubishi Heavy Industries Engineering is to supply one more six-car Model 2020 Automated Guideway Transit rubber-tyred light metro trainset for use on Saitama New Urban Transit Co's Ina Line in Greater Tokyo.
MHI delivered three Model 2020 sets in 2015, with the first entering service in November that year. Each has a different colour scheme. Eventually there will be seven sets, which MHI says will create 'a rainbow' to represent the Ina Line's 'radiant future'. The latest train will have a golden topaz colour scheme, to go with the green crystal, bright amber and pure ruby sets already in service.
Several changes are being made from the previous build of three trainsets, which would result in lower vibrations. The trains have a double-skin aluminium body and T-smover bogies, as well as a hexagonal cross-section that maximises interior space and enables the backs of the longitudinal seats to be slanted at a comfortable angle.
Saitama New Urban Transit Co is partly owned by Saitama Prefecture and East Japan Railway. Its 13 km Ina Line connects Omiya with Uchijuku and carries 50 000 passengers a day.