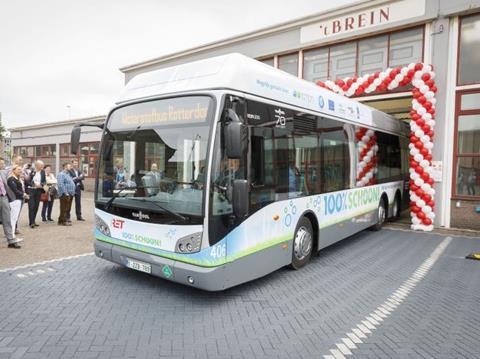 NETHERLANDS: Two hydrogen fuel cell electric buses started test running in Rotterdam on June 30, ahead of entry into service later this year.
In early 2016 transport authority RET signed a contract for Van Hool to supply the first zero-emission buses to Rotterdam from its factory in Koningshooikt in Belgium. The buses will use the existing Air Liquide hydrogen refuelling station, which has extended its storage capacity to accommodate them.
The two buses for Rotterdam are the first to be deployed as part of the EU-funded 3Emotion project, which aims to increase the commercial roll-out of fuel cell buses. A further 19 new buses and eight existing vehicles will take part in the project at seven sites: Rotterdam City, Rotterdam South, London, Versailles, Aalborg, Pau and Roma.