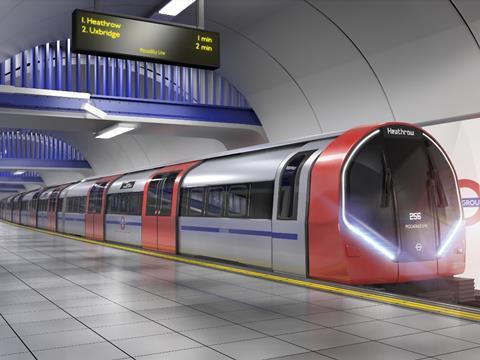 UK: Transport for London has selected Siemens Mobility to supply 94 metro trainsets for London Underground's Piccadilly Line, it announced on June 15. The £1·5bn contract is due to be signed following a 10-day standstill period.
Deliveries are scheduled to begin in 2023 from a factory that Siemens will build in Goole, East Yorkshire. This would employ up to 700 people in skilled engineering and manufacturing roles. TfL says that the order will also create 1 700 indirect jobs in the UK supply chain.
The air-conditioned trains will be derived from Siemens' Inspiro family, with walk-through gangways. Each set will be 6 m longer than the existing six-car 1973 stock trains. Introduction of the 94 trains will enable the withdrawal of the current fleet of 86 trains introduced in 1975. The larger fleet will enable LU to operate 27 trains/h in the peaks by the end of 2026, up from the current 24. An increase to 33 trains/h would depend on the completion of resignalling; TfL expects to award a contract for new signalling and train control by mid-2020. It would also require the purchase of another seven trains.
The new signalling is being designed for an eventual target of 36 trains/h, as currently operated on the Victoria Line. This would require eight more trains, to be procured 'subject to affordability'. With a fleet of 109 trains, TfL anticipates that the Piccadilly Line could carry an additional 21 000 passengers/h at peak times; the line is currently handling 700 000 passengers a day.
The Piccadilly Line order is the first rolling stock contract to be placed under TfL's Deep Tube Upgrade Programme, which envisages a 36% increase in capacity on four of the small-profile lines by 2035 through a combination of new rolling stock and signalling upgrades. TfL hopes to procure rolling stock for all four lines to a single design from a single manufacturer. The Central Line would receive around 100 trains, the Bakerloo Line 40 (to replace its current fleet of 36) and the Waterloo & City Line 10 (doubling its current fleet).
TfL invited Alstom, Bombardier, CAF, Hitachi and Siemens to tender in 2016. Bids were received from Siemens, Alstom and a Bombardier-Hitachi joint venture.