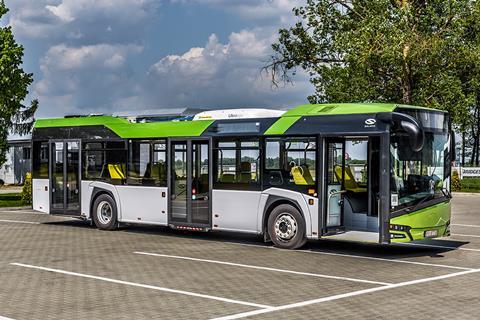 POLAND: Solaris has won an order to supply Ząbkowice Śląskie with seven Urbino 12 buses equipped with supercapacitor energy storage and an engine control system designed to reduce emissions at bus stops.
The vehicles will have hybrid drives comprising a 120 kW electric motor powered by a 151 kW diesel engine meeting the Euro 6 standards, with supercapacitors used to store regenerated energy. This is expected to reduce fuel consumption and emissions compared to conventional diesel buses.
The buses will also be fitted with an Arrive & Go function which turns the engine off on the approach to a bus stop and on again when the vehicle departs. Solaris said this would enable a substantial reduction in exhaust and noise emissions in areas where passengers wait.
Facilities on the 12 m long vehicles will include 37 seats, air-conditioning, CCTV, a voice announcement system, USB ports and defibrillators.
The order is being financed by the European Regional Development Fund under the Regional Operational Programme for the Dolnośląskie region in 2014-20.
Tenders are to be called in Q2 2020 for the operation of services totalling 1 500 km per day using the new buses, which are scheduled to be delivered by the end of July.