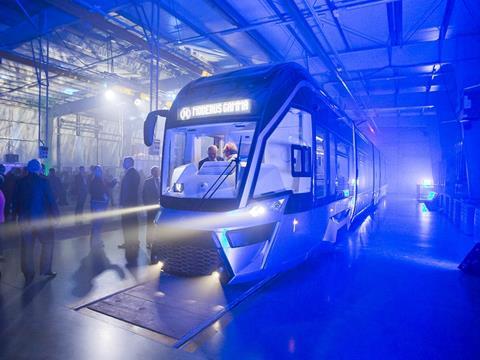 POLAND: The National Centre for Research & Development has decided to disburse a total of 59·8m złoty in grants to tram projects as part of the Innotabor programme aimed at developing innovative rolling stock. Five projects from four suppliers have been selected to receive grants.
Pesa is to receive 13·6m złoty towards a 26·9m złoty project for the development of a low-floor tram that uses composite parts and plastic materials to reduce weight. A second 22·9m złoty project from the manufacturer would receive an 11m złoty grant. This research will deal with onboard energy storage for off-wire operations, and will include the construction of a prototype tram.
FPS is undertaking a similar project. The total cost of 21·6m złoty would include a 10·3m złoty subsidy and would develop a fully low-floor tram with on-board energy storage.
NCBR is providing 10·4m złoty towards a 21·3m złoty project that would see Solaris develop a new-generation tram with 'innovative onboard equipment'. MLabs will receive 14·5m złoty towards an 18·3m złoty project to develop a diagnostic tram.